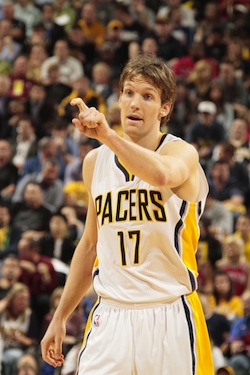 Posted by Royce Young
The Milwaukee
Bucks
will sign
Mike Dunleavy
to a two-year, $7.5 million deal Friday,
according to Yahoo! Sports
. Dunleavy will take up a portion of the Bucks mid-level exception with the deal.
Here's the thing: It's easy to look at this deal and say, "What, $7.5 million for Dunleavy?" because a) that's the figure for the deal and b) because right now we're all assuming that every player is grossly being overpaid.
But the Bucks got themselves a nice outside shooter for a little more than $3 million a year. Sometimes, it comes down to what your need is and what the fit is. The Bucks need more scoring. They have needed that for a couple years now. Not that Dunleavy is a scoring machine, but he is someone that gives a bit of punch.
He averaged 11.2 points per game off the Pacer bench last season and is a guy that in 2007-08 averaged nearly 20 points a game. He's a few injuries past that time now, but the point is, he's not a bad player.
And look at what Milwaukee has at the 2 and 3 spots:
Stephen Jackson
is the starter at small forward with
Carlos Delfino
behind him and
Keyon Dooling
is starting at the 2. You're going to tell me they didn't need a little help?
There were better options on the market, sure.
Caron Butler
? Yeah, but he just signed for $8 million a year. Milwaukee wasn't going there.
Richard Jefferson
? He's going to want at least the full mid-level. Probably likewise for
Vince Carter
. So in terms of value, the Bucks tried to land a good player for a good dollar amount. And they see that as Mike Dunleavy. Not bad, not great. Kind of like the Milwaukee Bucks in general.