By Matt Moore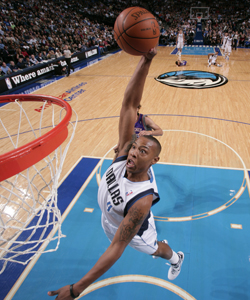 Two days ago the
Clippers
were considered a potential front-runner in the race for
Chris Paul
. Thursday, they completed the most Clipper-esque move they could make.
David Aldridge of NBA.com reports
that the Clippers have signed the 31-year-old, coming-off-knee-surgery
Caron Butler
to a three-year, $24 million deal.
Yup, still the Clippers.
Butler has toned down some of his worst temperments in recent years. He's a little easier on the trigger finger, works hard in a defensive scheme, has veteran experience and was a difference maker on the Mavs last season before he went down with knee surgery. Unfortunately, he's 31, and he went down with knee surgery.
The offers on the table for Butler as of Wednesday included the $5 million Mid-Level Exception from either the
Spurs
or
Bulls
, to be a competent role player on a championship contender, or $7 million to go to either the
Nets
or Clippers.
The Clippers went one million dollars above that to make sure they got Butler. Alongside
Eric Gordon
and
Blake Griffin
, Butler will be one of the veteran linchpins for a team that needed to improve on both ends of the floor.
In unrelated news, the NBA Board of Governors was expected to vote to approve the new CBA deal which they agreed to with the NBPA (also voting Thursday) after a five-month lockout in an effort by owners to control wasteful spending.
Wocka wocka wocka.