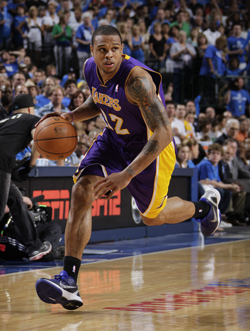 Posted by Royce Young
This is what happens when your backup point guard is stuck in China, I guess.
According to Yahoo! Sports
,
Shannon Brown
will sign a one-year, $3.5 million deal with the Phoenix
Suns
Friday.
The Suns are in need of a backup to
Steve Nash
because their current backup,
Aaron Brooks
, is currently in China after signing there during the lockout. If you recall, players that signed in China weren't given NBA opt-out clauses.
So Phoenix is left to add another piece and while Brown isn't quite the caliber player Brooks is, he's still a quality backup. Brown has been coming off the bench in Los Angeles for the last few years after making a jump from the D-League.
Playing backup to Steve Nash in Phoenix is a big role as the aging two-time MVP often has injuries pop up at times. Brown could be thrust into the starting role at times and with Nash likely trying to keep his minutes in check during this crammed season, Brown could play a pretty heavy role.
The Suns will be Brown's sixth team, but sixth in seven years. He's had two stops in Cleveland as well as two stops in Los Angeles. Last season with the
Lakers
he averaged 8.7 points and 1.2 assists in 19.1 minutes per game backing up
Derek Fisher
.
Speaking of, how does this impact the Lakers? Well, they already have another backup in place in
Steve Blake
, but liked Brown because of his versatility. The Lakers drafted
Andrew Goudelock
out of Charleston in June in the second round and could easily plug him in as their third point guard. He's a big guard at 6-3 and was really highly rated by a lot of scouts before the draft. Senior, crafty and smart. Sort of like a bigger Derek Fisher, I guess.