Posted by Ben Golliver.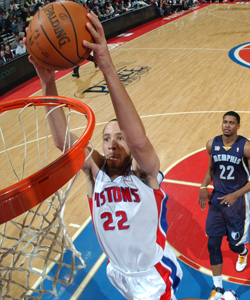 The Detroit
Pistons
have found their man. And he's a familiar one.
Yahoo Sports
and
ESPN.com reports
that the Pistons have re-signed free agent forward
Tayshaun Prince
to a 4-year deal worth $27 million. Prince was drafted by Detroit in 2002 and has played his entire career for the Pistons, helping the team to the 2004 NBA title.
This is a deal the Pistons made with their hearts rather than their heads and it's one they will surely live to regret. Prince's production has been steady for the last seven years at the 14-point 4-rebound, 3-assist level but at 31-years-old he's headed for decline sooner or later. The deal keeps him under contract at far more than Mid-Level money until he's 35 and that's not a spot you want to be with anyone who isn't a star player.
They've used multiple draft picks in recent years to fill out their wings --
Austin Daye
,
Kyle Singler
-- but have so far not bitten the bullet and gone ahead with the full-scale rebuilding movement. Instead, cap killer
Charlie Villanueva
remains and aging guard
Richard Hamilton
, who repeatedly clashed with head coach John Kuester last season, hasn't been dealt.
This wasn't quite a panic signing but it wasn't the most thoughtful long-term play either. The Pistons concluded that with Singler preoccupied in Europe after signing with Real Madrid, with free agent wing
Tracy McGrady
reportedly heading to the Atlanta
Hawks
and with only a truly few reliable roster pieces in place --
Greg Monroe
and guard
Ben Gordon
-- the idea of losing Prince was worse than the idea of over-paying him. Prince would theoretically retain trade value for contenders looking for a reserve piece as this contract plays out but the salary number is going to give a lot of teams pause when there are younger, better players available at the Mid-Level. Let's not gloss over the fact that Prince wasn't the biggest locker room peach last year, either.
The good news is that Prince, a Motor City mainstay, may very well retire as a Piston. He's sure to have his jersey lofted to the rafters and that's worth something. Still, the Pistons remain in the one place in the NBA you don't want to be: locked in to long-term salary commitments to non-stars while lacking both the talent to win now and a bona-fide future star to build around.
Letting Prince walk and pursuing with a slash-and-burn rebuilding effort would have been the better play.