By Matt Moore
and
Ben Golliver
.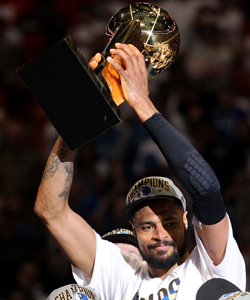 Ken Berger of CBSSports.com reports a stunner. Berger reports that the New York
Knicks
have emerged as the leader
for
Tyson Chandler
, ahead of the
Warriors
, who reportedly offered Chandler a four-year, $60 million deal Thursday. Berger reports that the Golden State offer isn't as "robust" as the report from California indicated.
In order to make room for Chandler,
Berger says
the Knicks would use the amnesty clause on
Chauncey Billups
,
or trade him
, then move Ronny Turiaff.
In the wake of Berger's report,
ESPN.com reports
that there is a "98 percent" chance Chandler winds up with the Knicks and that the Warriors will turn their attention to Los Angeles
Lakers
restricted free agent
DeAndre Jordan
.
Yahoo Sports reports
the Knicks are close to a 4-year deal with Chandler worth $58 million.
How this move would affect the Knicks' pursuit of
Chris Paul
is not known at this time. It would give the Knicks their best interior defender and a game-changer at the rim. The Knicks would be in a dire position for point guard to run D'Antoni's offense. Along with
Amar'e Stoudemire
and
Carmelo Anthony
, the Knicks would feature an even better frontcourt, one of the best in the league. With the Knicks' biggest issue being defense, Chandler would revamp their team.
Should the Knicks not wind up with Paul (if, say, he goes to the Lakers as a Houston-New Orleans-Los Angeles deal is being volleyed), they'd still have an excellent core. Stoudemire's primary weaknesses are at-rim defense and rebounding, and yet he's been forced to play center for the past six seasons of his career. Chandler provides everything the Knicks need to quell questions about their defense and toughness. The point guard duties would then fall to
Toney Douglas
and
Iman Shumpert
, a rookie who has captured the hearts and minds of Knicks fans like... every player the Knicks have drafted for forty years.
Stoudemire is nearly untradeable should the Knicks still be pursuing Paul, as the insurability of his knees following surgery six years ago leaves questions about his long-term health. Ironically, Stoudemire would benefit most from the addition of Paul and Chandler, with Chandler covering his deficiencies down low and Paul working with Stoudemire in the pick and roll which made him an MVP candidate in Phoenix next to Nash. But the Knicks would almost certainly not trade Carmelo Anthony due to both his name brand value and the work that was put in to acquire him initially.
The Knicks' plan isn't clear at this point, it may never be clear. But even with limited cap space, they remain a major player in this short NBA "offseason," even before signings can happen.
The question is now whether this is the end game for the Knicks, or whether it is a secondary move in pursuit of Paul, should they manage to land Chandler.