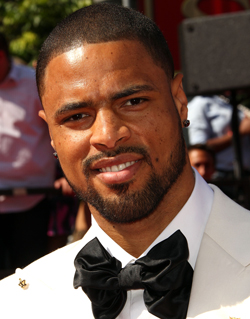 Posted by Royce Young
The ball is in
Tyson Chandler
's court. Or at least the contract is. Well not in his court, but more like his hand. You get what I mean. I think.
Here's the point: The
Warriors
have officially offered Chandler a contract,
according to CSN Bay Area
.
With NBA free agents allowed to officially sign contracts on Friday, Chandler has a deal from the Warriors in front of him worth more than $60 million over four years, according to two league sources.

The Warriors have made Chandler Priority No. 1 this offseason, and they hope to get an answer from Chandler on Day 1 of free agency. The hope is by Friday the Warriors will know if they have a defensive anchor at center or whether they'll have to go in another direction.
It's a complicated move to get Chandler though. First, the Warriors need to amnesty
Andris Biedrins
who is still owed $27 million over three years. That is a whole lot of money to be paying for nothing, along with the new deal you're giving Chandler. I guess new owner Joe Lacob is serious about doing what it takes.
Chandler is 29 and has had a number of injuries bite him. He averaged 10.1 points and 9.4 rebounds per game last season and was of course a major part of helping the
Mavericks
win a title.
And with the
Chris Paul
trade talk swirling around and the Warriors involved, there's some thinking that Paul would love to play with Chandler again. If that's the case, then the Warriors offering Chandler a deal could be a trump card in what Paul decides to to after this season.
The Warriors have been wanting to make a change in style and structure under the new ownership and new coaching staff led by Mark Jackson. Chandler would be a major step in that direction.
The question is -- is the offer good enough? Four years and $60 million is a major offer and it's hard to see Chandler getting that from anyone else. There are other interested parties like the
Nets
and Mavs, but it's hard to see either going higher than that. The Mavericks have some shuffling to do if they want to keep Chandler and while the Nets are ready to spend, Nene seems to be a better fit for them.
So really, it comes down to what the Mavericks are willing to do. And whether or not Chandler is willing to give them a hometown defending champions discount.
Chandler has already said he thinks he'll be on a new team
by training camp and while that could be posturing, that also could be reality if he decides to put his name on the Warriors' offer.