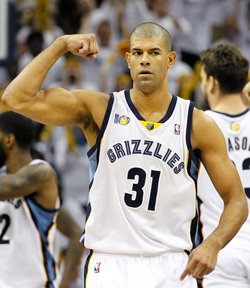 By Matt Moore
No "sources say." No "person close to the situation." Just a simple, direct message.
Shane Battier
announced where he'll be playing in 2011-2012 as a free agent on Twitter, in just one tweet.
"Let's Go
Heat
!!!!!" , Battier
tweeted Thursday morning
, a good 28 hours before the official time teams can announce signings. Battier also said that it came down to a
"winning role"
for his decision.
He then quoted Jimmy Buffet
, officially making him the most non-NBA-player NBA player ever.
SI.com reports Battier will make the full-taxpayer-MLE
for Miami, a 3-year deal wtarting at $3 million which is a pretty nice price for Battier in this market, even at age 33.
Battier fills a need for the Heat perfectly. A capable outside shooter with excellente defensive abilities, Battier can catch and shoot off the drive-and-kicks
LeBron James
and
Dwyane Wade
love so much, and can take the tougher defensive assignments, allowing James and Wade to focus on the offensive end and to roam for blocks and steals. He frees them up to improvise defensively instead of having to stick their assignments. Battier's a crafty veteran who has been apart of long winning stretches, helping the
Rockets
to a 22-game winning streak four years ago and the
Grizzlies
to a playoff run to the second round last season, including hitting the game-winner for their first ever franchise win.
Now he's taking his no-stats All-Star talent to South Beach. This is probably not what the owners had in mind when they set out to ensure competitive balance.