Posted by Ben Golliver.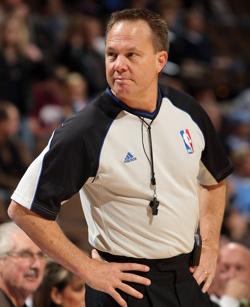 Ask Tony Montana or Marlo Stanfield and they'll tell you: A man is only as good as his word.
NBA referee Bill Spooner couldn't agree more. That's why he decided to
sue the Associated Press
back in March --
against the NBA's advice
-- to legally dispute a Twitter post from a writer accusing him of offering a "make-up call" to Minnesota
Timberwolves
coach Kurt Rambis. Make-up calls are a widely-accepted part of the NBA game but are technically against NBA rules, and Spooner was willing to take the AP to court to prove that he had not violated the league's policy.
On Wednesday,
the Washington Post reported
that Spooner and the AP settled the lawsuit, with the AP agreeing to remove the Twitter post and compensate Spooner $20,000 for his legal fees. The AP's writer, Jon Krawczynski, also admitted in a statement that he might have misheard what he took to be Spooner's make-up call.
"AP and its reporter Jon Krawczynski learned through discovery that referee Bill Spooner and coach Kurt Rambis have both consistently and independently denied that Mr. Spooner told the coach 'he'd get it back' in an exchange that occurred after a disputed call against the Timberwolves on Jan. 24, 2011, as Mr. Krawczynski had tweeted from courtside that night. Mr. Spooner has testified that he instead told the coach he would 'get back' to him after reviewing videotape of the play during a halftime break.

"The NBA promptly investigated at the time and concluded that Mr. Spooner had acted properly. AP was initially unaware of the investigation and does not contest the NBA's finding. During the game, Mr. Krawczynski tweeted what he believed he had heard. Mr. Krawczynski acknowledges the possibility that he misunderstood what Mr. Spooner said and has therefore removed the Tweet from his APKrawczynski Twitter feed."
Spooner, a 22-year NBA veteran, emerges with no real monetary victory but with his integrity intact. That's clearly what was most important to him. His lawsuit's "statement of facts" included multiple references to disgraced NBA referee Tim Donaghy, who was caught by the FBI and imprisoned for conspiring with gamblers to manipulate point spreads, so his motivation was clear from the outset: I'm clean and no one can publicly claim otherwise.
The lawsuit was unusual and has appeared extreme to outsiders from the beginning. But it wasn't our professionalism, honesty and honor that was getting called into question publicly on a social network. It was Spooner's. And no one, not even the NBA, can tell him how to respond in that situation. This was as personal as it gets.