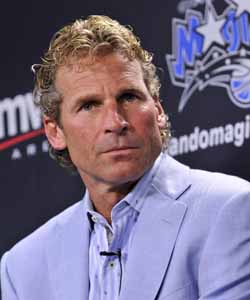 By Matt Moore
At the official press conference for the retirement of
Magic
CEO Bob Vander Weide, it didn't take long for the entire thing to fall into madness. With GM Otis Smith along for the ride, the questions about
Dwight Howard
were nearly immediate, and from there, of course, the questions turned to the topic of
the phone call Vander Weide discussed Wednesday
in which he called Howard after "a couple of glasses of wine." A local television reporter did not beat around the bush, immediately asking if Vander Weide had "drunk-dialed" Howard, in those terms. Vander Weide took the time to be clear on the subject.
To begin, Vander Weide said that he had been texting back and forth with Howard over several hours. He then said that he was not intoxicated when he dialed Howard during a game of "paddles" with friends, saying he had had "two-to-three glasses of wine" over several hours.
"We need to be clear on this," Vander Weide said, "that phone conversation has not changed my relationship with Dwight."
Vander Weide said he and Howard share a close relationship, saying the two "like each other, even love each other, as people." The former Magic CEO said that the phone conversation had nothing to do with his retirement, which was for personal reasons.
Magic GM Otis Smith was there to play the business end. Smith said that the Magic's intention is for Howard to retire with the Magic, but also said that any team wih a top-five player has to deal with free agency, and they're dealing with it now. Smith said that while the franchise is building around Howard and wants him to stay, they will not "placate" to anything he wants in order to keep him.
The circus rolls on.