Posted by Ben Golliver.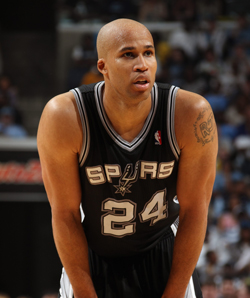 We have our first victim of the dreaded amnesty clause.
Yahoo Sports reports
that the San Antonio
Spurs
will waive forward
Richard Jefferson
with their amnesty, a provision in the new collective bargaining agreement that allows a team to wipe one current contract from its salary cap number (and luxury tax payments, if applicable). The Spurs recently restructured Jefferson's contract, which is worth $30 million over three years (including a player option for 2013-2014), and are now able to wipe his $9.2 million salary from their books.
Jefferson, 31, never delivered up to expectations in San Antonio. Twice a 22 points per game scorer for the New Jersey
Nets
, his looks and production predictably took a big hit when he transitioned into an auxiliary role for the Spurs and it never seemed like a very good fit. He was able to improve where the Spurs needed him most -- upping his 3-point shooting from 31.6 percent in 2009-2010 to 44.0 percent in 2010-2011 -- but the Spurs traded guard
George Hill
for the rights to rookie
Kawhi Leonard
, a multi-talented forward, and are in the hunt for free agent forward
Caron Butler
according to ESPN.com
.
The move allows the Spurs some cushion between their salary cap position and the luxury tax line, affording them the ability to spend a full Mid-Level Exception on someone like Butler without needing to shed any other contracts to avoid the tax.
Jefferson will certainly have suitors in the bid process set up for amnesty casualties, althoug he must now prepare to play for a significantly worse team, as only teams under the cap can bid for his services. There will be bids. Jefferson is on the decline but not yet washed up, and he's a proven commodity who can likely be had for less than half of his previous salary.
Why use the clause now? The Spurs simply don't have any other bad contracts on their books. It was always going to be Jefferson if they used it. Using the clause now instead of after the 2011-2012 season provides the maximum benefit in terms of flexibility and potential recouped savings as Spurs owner Peter Holt will recover the bidded portion of Jefferson's contract. San Antonio won 61 games last season and is likely facing one final run for franchise big man
Tim Duncan
, who is in the final year of his contract. Jefferson was paid as San Antonio's fourth best player; the team has now made it clear that they would prefer to free up their books and spend a portion of his money more wisely elsewhere.