Posted by Ben Golliver.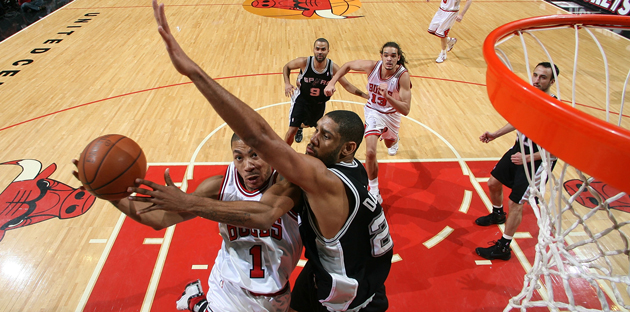 Aside from cutting the 2011-2012 NBA regular season length down from 82 games to 66 games, the lockout had one major impact on this year's schedule: every Western Conference team is no longer able to play a home-and-home series with every Eastern Conference team, and vice versa. Instead, each team gets just 18 non-conference games instead of 30, playing just three non-conference opponents twice.
Is this a big deal? Imagine you're the lowly Cleveland
Cavaliers
, coming off one of the worst seasons any NBA team has every played. Would you rather play the Los Angeles
Lakers
, Oklahoma City
Thunder
and Dallas
Mavericks
twice each or would you prefer the Minnesota
Timberwolves
, Sacramento
Kings
and Houston
Rockets
? Obviously, your preference would be to stack up as many games as possible against poor teams.
There was no perfect solution for the NBA to balance this aspect of the schedule. Thanks to player movement, back-to-backs, back-to-back-to-backs, and the like, just about every team in the league feels like it's getting a raw deal this year. The distribution of non-conference opponents is sure to be a sore spot for some fanbases and a point of happiness for others.
So who are the first glance winners and losers? Let's take a look using a simple method.
Elite Winners: San Antonio Spurs and Chicago Bulls
There are two clear winners when it comes to this aspect of the schedule and it just so happens that the winners were the league's top-2 teams during the regular season last year. Let's pencil it out using a straightforward win differential based on last season's performance.
The Spurs won 61 games last year and their three repeated non-conference opponents are Cleveland, Orlando and Philadelphia. Those three teams averaged a combined 37 wins last season. 61-37 gives you a differential of +24, the highest of any team in the league.
Chicago, who won 62 games last year, got similarly good luck, facing New Orleans, Memphis and Sacramento, who averaged 39 wins last year, yielding a +23 differential. If the
Hornets
wind up trading
Chris Paul
prior to their games with the Bulls, Chicago's advantage here becomes even more pronounced.
Elite Losers: Boston Celtics and Oklahoma City Thunder
Boston, with 57 wins, and Oklahoma City, with 56 wins, both were among the NBA's elite last year. However, both drew exceedingly difficult home-and-home opponents, likely by virtue of their television-friendly teams.
Boston plays the defending champion Dallas Mavericks, the Los Angeles Lakers and the Thunder twice each. The Thunder is set to play the Celtics, the Miami
Heat
and the Orlando
Magic
twice each. If
Tyson Chandler
and/or
Dwight Howard
change teams prior to the start of the season that would probably be appreciated in Massachusetts and Oklahoma.
Both Boston and Oklahoma City, despite being well above .500 last year, have differentials of zero thanks to the tough scheduling.
Marginal Winners: Houston Rockets
The Rockets won just 43 games last year, missing out on the Western Conference playoffs. While they will struggle to climb up the Western Conference playoff table, they'll do it with the help of playing three of the East's weakest sisters: Charlotte, Toronto and Washington. It doesn't get much more cake than that. Houston winds up with a differential of +17 in these home-and-home match-ups, good for third best in the league.
Marginal Losers: New York Knicks
The Knicks are a premier team in the hearts and minds of just about everyone but they still won just 42 games last year. Given their acquisition of new star power and their big-city locale, the NBA has made sure they play plenty of marquee match-ups. Indeed, the Knicks are set to face home-and-homes with the Dallas Mavericks and Los Angeles Lakers, getting a bit of a reprieve with the Sacramento Kings. Still the presence of two 57-win teams from last year gives New York a differential of -4, tied with the Philadelphia
76ers
for the worst mark of any 2011 playoff team.
Terrible Winners: Detroit Pistons
During the offseason, I graded Detroit's roster as the worst in the league and thankfully the schedulers had some mercy, scheduling the Pistons against Memphis, Minnesota and Sacramento, giving Detroit extra games against the two worst teams in the West. Despite winning just 30 games and heading to the lottery once again, the Pistons manage to have a +1 differential in this category, a pretty astounding feat.
Terrible Losers: Cleveland Cavaliers
It's no secret: the Cavaliers were garbage last year, setting an NBA record for consecutive losses and winning just 19 games overall. They didn't get lucky here, drawing home-and-homes with the league-best San Antonio Spurs and two middle-of-the-pack teams in the West: Phoenix and Utah. That's good enough for a league-worst -28 differential. By comparison, the 17-win Timberwolves drew Charlotte, Detroit and Indiana and had a -17 differential.
Remember, this is just one minor elements in the league's overall 2011-2012 adjusted schedule. Still, it's interesting to see the range involved. Here's a chart to help visualize what's happening.
Click here for the full-size version
.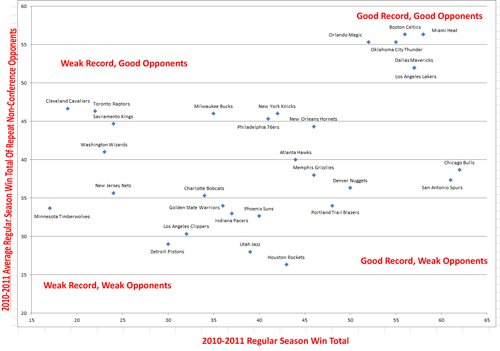 Here's a complete list of the differentials in 2010-211 win totals between each NBA team and the average of its three repeat non-conference opponents on the 2011-2012 schedule. All numbers rounded.
San Antonio Spurs 24
Chicago Bulls 23
Houston Rockets 17
Portland
Trail Blazers
14
Denver
Nuggets
14
Utah
Jazz
11
Memphis
Grizzlies
8
Phoenix
Suns
7
Dallas Mavericks 5
Los Angeles Lakers 5
Indiana
Pacers
4
Atlanta
Hawks
4
Golden State
Warriors
2
Los Angeles
Clippers
2
New Orleans Hornets 2
Miami Heat 2
Detroit Pistons 1
Boston Celtics 0
Oklahoma City Thunder 0
Charlotte
Bobcats
-1
Orlando Magic -3
New York Knicks -4
Philadelphia 76ers -4
Milwaukee
Bucks
-11
New Jersey
Nets
-12
Minnesota Timberwolves -17
Washington
Wizards
-18
Sacramento Kings -21
Toronto
Raptors
-24
Cleveland Cavaliers -28