Posted by Royce Young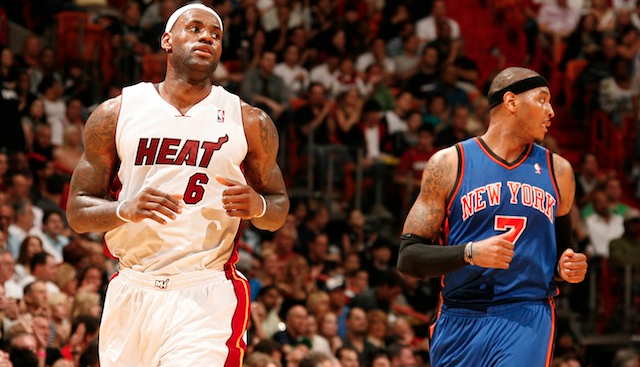 When you have a season, you have to have a schedule. That's how it works, right?
Though it's abbreviated and not every city will see every team,
the NBA put out its 66-game schedule Tuesday night
.
And as it typically goes, within each schedules there your usual dregs and ho-hum matchups and there are big, storyline-filled mega showdowns. So let's get to it. What are the can't-miss games for this NBA season? Here are 21 you need to clear the calendar for, excluding the obvious can't-miss slate of Christmas games:
Dec. 26: Memphis at San Antonio:
It was stunning at the time, but after watching the
Grizzlies
rip through the Spurs before bowing out to the Thunder in seven-game, it felt like we should've seen this coming. And this was with the Grizzlies missing their best scorer in
Rudy Gay
.
Dec. 26: Los Angeles Lakers at Sacramento Kings
Jimmer Mania will finally get off to its NBA start and the league was kind enough to let it begin at home. You can be sure Sacto will be buzzing with the hated Lakers coming to town and Jimmer's debut, but there could be more to the hype than that. There could be a little optimism for the
Kings
are
Tyreke Evans
,
DeMarcus Cousins
and company might have a little something brewing this season.
Dec. 26: Oklahoma City at Minnesota
Before there was Jimmer Mania, there was Rubio Fever. We've just had to wait a while for it. Anctipation!
Kevin Love
will finally be able to believe what he sees as the floppy-haired Spaniard takes the floor with the
Timberwolves
for the first time against Durant, Westbrook and the Thunder.
Dec. 27: Boston at Miami
The first meeting between the
Heat
and Celtics since last season's playoff series. It's no secret that LeBron and Wade don't really get along well with
Paul Pierce
and
Kevin Garnett
. The more teams don't like each other, the better.
Dec. 29: New York at Los Angeles Lakers
Maybe the two most visible franchises in the league with two rosters full of stars.
Amar'e Stoudemire
head-to-head against
Pau Gasol
is an awesome matchup, but if we're lucky, it'll be iso battles between Melo and Kobe for the last couple minutes of the game.
Dec. 29: Dallas at Oklahoma City
The first Thunder opportunity for payback and redemption would've come almost two months into the old season, but now it gets to happen right away. You can be sure the Arena Formerly Known As The Ford Center will be amped about this one. The last time the
Mavericks
were in Oklahoma City, they broke the Thunder's heart with that ridiculous 15-point comeback. No way Durant,
Russell Westbrook
and the Thunder fans have forgotten.
Jan. 1: Cleveland at New Jersey
Top pick
Kyrie Irving
will have a handful of games under his belt by the time he heads to New Jersey, but this will be his first game against an elite point guard. How will he hold up against Deron Williams? This could be a quick welcome-to-the-NBA moment for the Cavs new franchise kid.
Jan. 5: Dallas at San Antonio
The old champs versus the new ones provides a new twist to an old rivalry. These two Texas titans have never gotten along and have had some pretty awesome games over the past decade or so. You can be sure that for once, Dirk and the Mavs will have a bit more swagger in Dallas as the Mavs take the floor against
Tim Duncan
and the
Spurs
. Funny how a ring can do that.
Jan. 13: Chicago at Boston
It's the Thibodeau Bowl. The Celtics might be aging but you know they aren't going to just hand the East over. The Bulls are rising and you know they want to rub last year's triumph over the Celtics in the regular season in their face.
Jan. 14: Lakers "at" Clippers
By no means have the Clippers caught up to the Lakers, but there is a chance that this team could be pretty decent. After a horrific start to last season, the Clippers put together a solid last four months of the season. Some might be looking at this game as a changing-of-the-guard type of affair -- which it's not -- but the Clippers could definitely raise some eyebrows.
Jan. 14: New Jersey at Utah
It'll certainly be more unceremonious as LeBron's return to Cleveland, but
Deron Williams
coming back to Utah will definitely have the attention of
Jazz
fans. There's some that still blame Jerry Sloan's retirement on Williams and that whole situation didn't sit well in Salt Lake. Williams will likely feel some anger from Jazz fans, even if it's not entirely deserved.
Jan. 19: Los Angeles Lakers at Miami
I'm not totally sure, but I think Kobe is still in American Airlines Center shooting. Kobe loves beating LeBron and you know the feeling is mutual. Two of the league's biggest, most visible teams with the two biggest, most visible stars. If you aren't watching, I have to wonder what the heck you could possibly be doing.
Jan. 20: Los Angeles Lakers at Orlando
The first time the Lakers visit the
Magic
. The question is, will
Dwight Howard
be playing home, or away?
Jan. 29: Chicago at Miami
A rematch of the Eastern Finals.
Derrick Rose
's last memory of the Heat is LeBron and Wade storming back in Chicago and stealing Game 5 when the
Bulls
had it all but won. These two teams will likely be the class of the East and with this being the first meeting of the season, somebody's going to make a statement.
Feb. 9: Los Angeles Lakers at Boston
It's the league's best rivalry, maybe sports' best rivalry. Every Celtics-Lakers game is an event. I don't think I even need to give you reasons why this game is huge.
Feb. 17: Miami at Cleveland
LeBron returns, again. It's the third time he's played in Cleveland since "The Decision" and some of the sting certainly has worn off, at least in that fans won't be buying tickets ONLY to yell at LeBron. But you can be sure that an unusual amount of Maverick blue will be littered throughout Quicken Loans Arena.
Feb. 17: New Orleans at New York
Take a good look at
Chris Paul
and wish,
Knicks
fans, assuming CP3 still is in NOLA. You know he's a free agent in 2012 and you know he'd look pretty nice alongside Amar'e and Melo. But he's on the other side right now and there's a pretty good chance he's going to drive you crazy, at least on this night.
Feb. 23: Lakers at Oklahoma City
The Lakers always bring out the best in Thunder fans, and that's saying something. Kobe, Durant, Westbrook, Bynum, Gasol, Harden, Perkins -- the names are there and the games are always good.
March 25: Miami at Oklahoma City
LeBron and
Kevin Durant
. Two of basketballs most enjoyable, explosive talents that are always easy on the eye. The
Thunder
have always been painted as the anti-Heat, but the young kids from OKC don't care about making a statement for the little guy. There may be a good storyline, but it's more about a really good Eastern team versus a really good Western team.
April 1: Miami at Boston
LeBron and Wade return to the scene of one of their greatest crimes. The Heat opened the season in Boston and took an embarrassing, humbling loss at the hands of the
Celtics
but got revenge in the postseason, besting the Celtics in five with the final game coming on the parquet. It's not exactly a rivalry, but again, the Heat don't enjoy the Celtics and the Celtics certainly don't enjoy the Heat.
April 15: Miami at New York
The two supposed "super" teams meeting in Madison Square Garden with potential Eastern seeding implications? Yes, please. LeBron against Melo is good stuff no matter what, but you can be sure the Knicks will be trying to push the Heat with a stronger roster by this point.