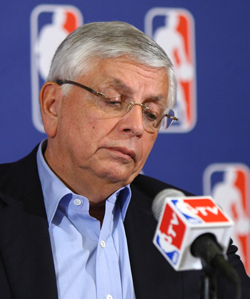 By Matt Moore
The lockout is over, the schedule has been announced, it's time to try and make it up to fans. There have been announcments of ticket deals and the league is in full-on recovery mode spinning as much attention towards the potential trades of
Chris Paul
and
Dwight Howard
(which is exactly the kind of thing the lockout was supposed to prevent, but whatever) as possible. And in the middle of it, NBA commissioner Howard Stern has elected to write a note to fans.
From NBA.com
:
Dear Fans,
On behalf of the entire NBA family, I want to thank you for your patience and support over the past several months. The new collective bargaining agreement is designed to provide more competitive balance for our league, reward strong performances by our players, and strengthen our game by improving its economics. We believe this agreement will benefit our teams, players, and most importantly, fans by making the NBA stronger.

In the days and weeks ahead, all of us hope you will enjoy the run-up to the start of the season: free agency, training camp, and preseason games. Each NBA team will be hosting special events for fans, so be sure to check your favorite team's website, Facebook page, or Twitter feed for details. This season we look forward to bringing you more of everything you love about NBA basketball: incredible competition, tremendous excitement, and unending hard work and dedication by the world's best athletes. Thank you for being an NBA fan. I hope you enjoy the season, which promises to be a most exciting one.

Sincerely,

David Stern
There are two words notably missing in there: "sorry" and "apologize." There's no apology to fans for the 16 missed games, no regret over the millions of dollars for local economies lost. There is a key line there, "the world's best athletes." The same players the league drove for five months to crush the union of, they are now championing as the product.
But still, it's another part of the healing process, and Stern could have stayed quiet. It's good to acknowledge the fans, to speak to them and try and get over the summer that wouldn't end and begin the next exciting chapter of the NBA.
Just don't think people will forget the lessons learned.