Posted by Ben Golliver.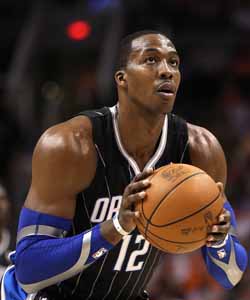 Hours after
Magic
CEO Bob Vander Weide stepped down after
admitting he drunk dialed
All-Star center
Dwight Howard
, reports have surfaced in Orlando that the Magic are exploring their trade options in hopes of acquiring a second All-Star to placate Howard.
BHSN reports
that Magic have lofty goals.
Source in Magic front office confirms the Magic are attempting to acquire Deron Williams from the New Jersey Nets to help Dwight Howard. Magic front office source confirms Chris Paul and Monta Ellis are on team's radar. Howard confidante told me Paul and Ellis were on Dwight's wish list. Magic will try to acquire another superstar to help him out.
Vander Weide
said similar things
to the station before the door hit him on the way out.
He told BHSN he believes the Magic might be able to cater to Howard's needs and acquire another NBA superstar. "It is certainly possible, teams like our assets," said Vander Weide in regard to a question about the potential to acquire either Chris Paul of the Hornets or Monta Ellis of the Warriors.
As
Ken Berger of CBSSports.com reported Tuesday
, Howard has not formally told the Magic whether he would re-sign with the team or elect to pursue his options by requesting a trade or entering free agency after this season.
What to make of these rumors? Well, first, they are a desperate attempt by the Magic organization to shift the discussion from the unprofessional conduct of one of their chief decision-makers during a critical time in the franchise's history. The sooner everyone starts talking about rumors -- any rumors -- the more quickly everyone forgets that the guy employed to keep the only player worth more than a damn happy was too busy drinking wine and "paddling" to remember the basics of the boss/employee relationship. The bigger the name in the rumor, the better right now. Anything to restore some element of hope following a lockout and prior to the start of the 2011-2012 season.
Once the dust settles, the Magic will find themselves where they've always been: in a ridiculous cap situation with mediocre talent and a small market that doesn't appear to be enough to satisfy Howard's demands. Recently, Magic GM Otis Smith admitted that he is
open to entertaining trade offers
for Howard. That's smart. Put that all together and we should expect the Howard outbound rumors to replace these All-Stars inbound rumors in no time. Given how weak the Magic look right now, we should also expect the volume and velocity of Howard outbound rumors to increase dramatically over the next few weeks.