Posted by Royce Young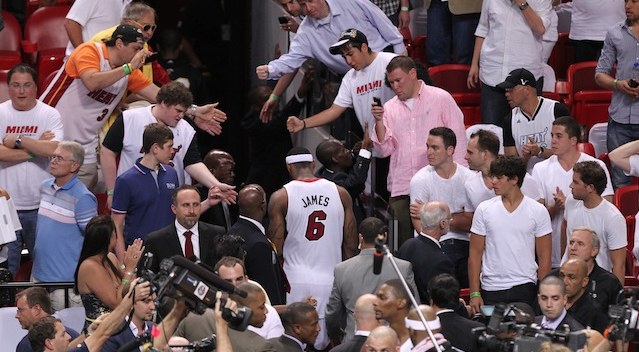 It's a new season for
LeBron James
. And thank heavens, because he doesn't want to do last year over again.
It started with "The Decision," a decision he now regrets. But it ended with him watching the
Mavericks
party on his home floor as he turned in what can only be described as a disappointing NBA Finals performance.
He's heard all the jokes, the slams, the rips over the past few months. A season lost to a lockout would've been bad for everyone, but especially for LeBron who would've had the bad taste of Game 6 in his mouth for a lot longer, something he called one of the "worst times of my life."
But last season, and everything that came with it, was a big learning experience for the self-appointed king. He's in a reflective spirit right now and looking back, he'd love to change a lot. One thing that definitely comes to mind is his embrace of the so-called "villain" role.
"It basically turned me into somebody I wasn't,"
LeBron said in an interview on SportsCenter
. "You start to hear 'the villain,' now you have to be the villain, you know, and I started to buy into it. I started to play the game of basketball at a level, or at a mind state that I've never played at before ... meaning, angry. And that's mentally. That's not the way I play the game of basketball."
LeBron's not saying he didn't have fun last season, but the pressure of his decision and the spotlight on his team was a lot to handle. Even when he and his teammates tried to have fun, it didn't work. For instance,
Dwyane Wade
mocking
Dirk Nowitzki
's illness during The Finals was seen more as immature and stupid rather than light and fun.
In Cleveland, LeBron was notoriously carefree. His team was really good, so that helped, but there were the pre-game antics from his team posing for pretend pictures to handshake routines that went on for so long that they almost delayed games to dancing while the game was going on. In Cleveland, LeBron was home, he was himself. It was
fun.
"I got to this point by playing this game a certain way, [I'm] getting back to loving the game and having fun with the game," LeBron said. "I play the game fun, joyful, and I let my game do all of the talking and I got away from that. That's what I lost last year. Going through my first seven years in the NBA I was always the liked one and to be on the other side -- they call it the dark side or the villain or whatever they call it -- it was definitely challenging for myself. It was a situation I had never been in before, and it took awhile, it took a long time to adjust to it."
LeBron's admitted before that "The Decision" was a bad call and that if he could do things over, he wouldn't have a one-hour special announcing his destination.
"The fact of having the whole TV special and people getting the opportunity to watch me make a decision on where I'm going to play; I would probably change that," he said. "Because I can see now if the shoe was on the other foot and I was a fan and I was very passionate about one player and he decided to leave, I would be upset too by the way that he handled it."
Self-awareness has often been the No. 1 thing that LeBron lacked last season in Miami. He never seemed to have understood why people were angry with his actions or why people all of a sudden were booing him. It never made sense to him, while it made perfect sense to everyone else. But it sounds like he's getting it now. It sounds like he's starting to see the world as something that doesn't revolve around LeBron. Which is how you start to rehabilitate your image. You've got to tear yourself down and build it back up.
For LeBron, the 2011-12 season is important for a lot of reasons. He wants that title desperately, but it also sounds like he wants to find himself again. Which in this case, might be all he should be looking for.