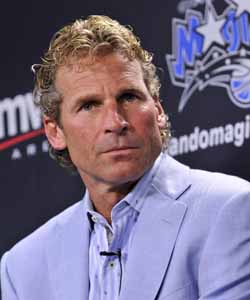 By Matt Moore
The Orlando
Magic
announced Tuesday that Magic CEO Bob Vander Weide has stepped down as CEO. From the
Orlando Sentinel
:
Alex Martins has been promoted from team president to CEO.

Vander Weides decision to step down was reported first by WKMG.

Vander Weide has been Oralndo Magic President/Chief Executive Officer since 1994. He began his career with the Magic in 1992 as Vice President of Basketball Operations. According to the Magic's website, his responsibilities included player planning and procurement, long-term strategic planning and new business initiatives.
via
Bob Vander Weide: Bob Vander Weide retires as Orlando Magic President - OrlandoSentinel.com
.
That's a long time for someone to run an organization and then suddenly step down. Magic center
Dwight Howard
has been linked to a series of
trade rumors
over the past two weeks, centered around
Chicago
,
Los Angeles
, and New Jersey. An afternoon press conference has been scheduled. The reason for Vander Weide's departure is not known at this time.
Ken Berger of CBSSports.com reports
that Magic executives were "taken aback" when they were informed of Vander Weide's resignation, and that it is considered retirement. Notably, Vander Weide admitted Tuesday to a reported call to Howard at 1 a.m. earlier this week after what he described as called "a couple of glasses of wine."
Because, really, that's the best time to call the superstar who may or may not be seeking a trade and/or departing in free agency which would wreck your organization. From CFNews13:
Vander Weide confirmed that he made a 1 a.m. phone call in recent days to Magic superstar Dwight Howard, and Howard thought Vander Weide may have been intoxicated. On that call, Vander Weide told Howard how much the Magic wanted to keep him in Orlando. "I was playing paddle with friends and had a couple of glasses of wine," Vander Weide told BHSN. "Maybe Dwight thought it was inappropriate to talk business after a couple of glasses of wine... Maybe I should have waited until the morning."
via
Magic CEO Bob Vander Weide to retire, Alex Martins promoted - Central Florida News 13
.
Vander Weide also said that he had a "very good" relationship with Howard.
Vander Weide serves on the NBA's Board of Governors. Orlando is set to host the 2012 NBA All-Star Weekend in their brand new, publicly-funded Amway Center.