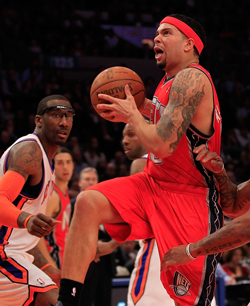 Posted by Royce Young
There was an understandable amount of panic and chatter when
Deron Williams
decided to turn down an extension with the
Nets
last week. Though the news wasn't surprising, it still meant that Williams would be an unrestricted free agent next summer with the option to leave the Nets and go anywhere.
This of course is a big deal because the Nets already made a major investment in Williams by trading away a couple of their top assets to Utah last year to get him.
So with a level of uncertainty surrounding Williams' future in New Jersey -- er, Brooklyn -- his name has started to be included in the "should they trade him?" conversations that currently are engulfed by
Chris Paul
and
Dwight Howard
.
Answer: Doesn't sound like it.
On WFAN Monday, Williams said, "My plan is to stay. Hopefully we can get some good talent to where I can stay."
And when asked what the percent change he would be staying with the Nets is, Williams didn't hesitate in saying "I'd probably say like 90 percent." That's a high percent.
Billy King just fist pumped in his office.
Williams tried to quell some of that distress last week about not signing an extension
with a tweet that said
, "Don't know why people are tripping just bc I'm opting out doesn't mean that I won't resign with the nets! W/ new CBA it makes sense." He's right. A new deal makes more sense and plus, he wants to see what the Nets do.
Last week when King was asked if he'd consider trading Williams, he answered, "Absolutely not." He probably already knew how Deron felt, but this has to be music to his ears.
Williams did leave open 10 percent though. And in that 10 percent is probably what the Nets do this season to impress Williams about their future. He even said, "Hopefully we can get some good talent to where I can stay." He's thinking about the roster and the future of the team. King and company have probably sold him on the fact that they're going to be major players in free agency, but they're going to have to prove it.