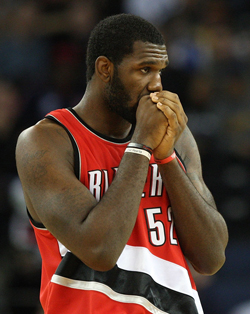 Posted by Royce Young
After a reported brief flirtation
with the Miami
Heat
,
Greg Oden
could be re-signing with the Portland
Trail Blazers
,
according to Yahoo! Sports
.
Oden would be signing a one-year, $8.8 million qualifying offer with the Blazers that would then make him an unrestricted free agent in 2012.
The Blazers made that offer already
before the lockout was installed.
Oden has appeared in just 82 games since being taken No. 1 overall by Portland in the 2007 draft. He missed last season after having microfracture surgery in November. And that was after he had a kneecap injury in Dec. of 2009 that forced him to miss the rest of that season. So it's been a while since Oden has been on the basketball court.
Before that injury, Oden was playing pretty well in what was his second season averaging 11.7 points, 8.8 rebounds and 2.4 blocks per game. Right now, the expectation is that Oden will return to the floor in January.
Waiting until 2012 is probably the wise thing for Oden to do. The $8.8 million is more than he'd likely get in free agency -- especially from the Heat -- and he could use 55 or so games to prove his health this season. If Oden can finally get back to full strength and play as the enforcer he did for that small part of 2009, he could be a player that would require a decent payday.
But as it's been since he was drafted with the top pick in 2007, Oden has to be healthy. Unless that happens, the $8.8 million this season might be the biggest check he'll see for the rest of his career.