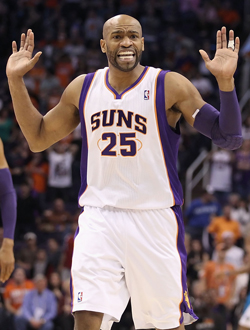 Posted by Royce Young
UPDATE:
Carter was officially waived by Phoenix Friday
----
Add another veteran wing player to the free agent pile
as ESPN.com reports
that the
Suns
will waive
Vince Carter
.
The Suns aren't using the new amnesty clause to pull the plug on Carter though. There is actually an amendment in Carter's contract that allows his current team to waive him within 72 hours before the start of free agency, otherwise his $18 million salary becomes fully guaranteed.
The Suns and Carter amended the contract in June to delay the guaranteed-salary date in Carter's final contract year until after the lockout ended. Waiving Carter inside the first 72 hours after the league's schedule start of free agency Friday means that Phoenix would only have to pay $4 million to Carter and likely ensure that the Suns avoid luxury-tax territory this season even after trying to complete the re-signing of Grant Hill and moves with other potential free agents.

The Suns' plan, sources said, is to bring back Hill if possible and make a playoff run this season, then proceed to the summer of 2012 armed with salary-cap space to make major upgrades to the roster.
(This isn't exactly new news though.
Back in June there were reports
the Suns would buy out Carter but then that whole lockout thing happened.)
If you're like me, you just saw "$18 million" and couldn't believe why anyone
wouldn't
waive Carter before paying that. Also: Free Agency begins Dec. 9, so the Suns are getting this in with plenty of time.
But if the Suns are planning on keeping Hill and making a run, it seems that they are of the mind that
Steve Nash
would like to see his time through with the franchise. There have been rumblings that Nash would want a trade to contender, but that doesn't seem to be the case, yet.
So who could be after Carter? According to the report, the
Bulls
,
Spurs
and of course the
Heat
, who seem to be after every decent veteran available, will have interest in Carter. All those teams seem to be a quality fit for Carter and while he's not anywhere near the scorer he once was, he can still shoot from 3-point range and has a good 20-point night in his legs every now and then.
He's not worth $18 million, but he definitely could be a veteran gem for someone in the next couple weeks.