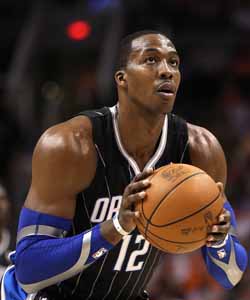 Posted by Royce Young
First step to keeping
Dwight Howard
in Orlando: Getting
Magic
general manager Otis Smith on the phone with Howard's agent Dan Fegan. Because that evidently hasn't happened yet.

According to the Orlando Sentinel
, Fegan has not yet spoken with Smith about Howard's situation.
Smith and Fegan could speak with each other this weekend. And even if they don't, there might not be any immediate reason for concern from the Magic's perspective. Howard and Smith will have the chance to speak Dec. 9, the day training camps are scheduled to open across the league.
Yeah, could be nothing, but still, you'd think there would've been at least contact. Then again, there's probably not much to talk about. Howard's not signing an extension in Orlando so really, what's there for Smith and Fegan to discuss.
Of note: Fegan also represents
Jason Richardson
and is advising
Gilbert Arenas
, so that means he hasn't talked to the Magic about those guys yet either.
Smith's big decision with Howard isn't really about the extension though, because that's not happening. It's more about feeling out Howard about whether or not it's worth the risk of not trading him. Arenas is a likely amnesty candidate and Richardson is an unrestricted free agent that the Magic are probably fine with watching walk to another team.
Teams and agents were allowed to start talking last Wednesday and can start talking directly on Monday. Maybe that's what Smith is waiting for. Or maybe, he just doesn't have anything to say.