Posted by Royce Young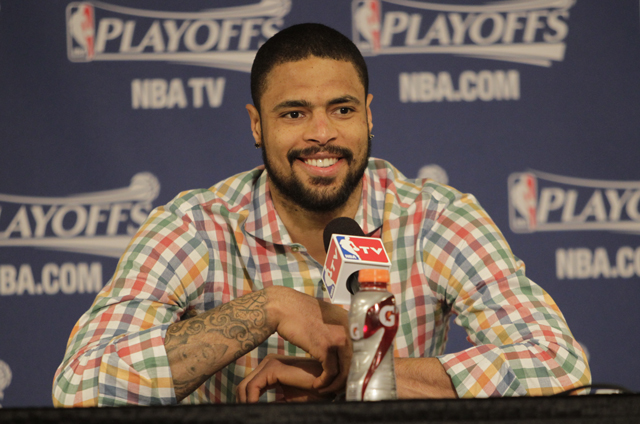 Maybe when
Tyson Chandler
said he
expected to be with a new team before training camp
, he was serious. Most took it as free agent posturing, something just part of the negotiation. But it's looking like Chander could be very serious about moving on.
According to ESPN.com
, talks between Chandler and the
Mavericks
have stalled out and he's planning on meeting face-to-face with three teams this week -- the
Warriors
,
Rockets
and
Nets
.
With little movement in the talks in the days since, sources say that Golden State, Houston and New Jersey have emerged as the most serious suitors for Chandler, who is widely credited with changing the defensive culture in Dallas and combining with Mavs mainstay Dirk Nowitzki to spark the franchise to its first-ever championship.
It could still be just part of the process of Chandler re-signing with Dallas though. He wants a big deal and the Mavs are making it seem as if they can't afford him unless it comes with a little hometown paycut.
The Nets could be after Chandler with an eye towards flipping him in a package to Orlando for
Dwight Howard
. But that's just speculation at this point. Because otherwise, it seems a bit curious that the Nets would be this interested in acquiring either Chandler or Nene, given they have
Brook Lopez
. Obviously they haven't been thrilled with Lopez's progression, but still, he's potentially a franchise big man already on your roster, especially considering he's just 23 compared to Nene and Chandler who are both 29.
And don't forget either: Lopez averaged 20.4 points per game last season. That's nothing to just gloss over. If you asked me, that's a player I'd keep as a cornerstone.
But the Nets want to make a major splash in order to impress
Deron Williams
, so they're looking for a big name free agent. Chandler could be that guy, or it could just be part of Chandler's tour to drive up interest and his price tag. There's no doubt he'd be a nice fit in Houston and Golden State has been hunting an athletic big man for a while. He's going to require a hefty number and with his injury history and age, there could be hesitation.
Don't rule out the Mavs completely though. Chandler hasn't signed anywhere yet and you know he wants to return to Big D. It's just about the numbers right now.