Posted by Ben Golliver.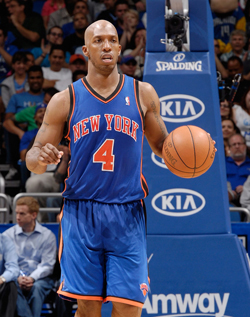 Veteran NBA point guards are supposed to be floor generals, not pawns. No wonder New York
Knicks
point guard
Chauncey Billups
is upset at all the recent trade rumors involving his team.
The New York Times interviewed
Billups on Friday and he made it clear that a trade involving him would be quite upsetting. What triggered this? The "Chris Paul wants to go to New York" rumors, of course.
"It wouldn't make me happy," Billups said Friday in a phone interview from his Denver home. "Because for me, at this juncture in my career, I just want to win."

"I want to win another championship," he said. "I think we got some good pieces in New York. I felt like we were making that move to be possibly one of those top teams. I don't want to play for no team that's rebuilding."
Billups' sentiment here is well-founded. When it comes to superstar moves, nobody really
wants
to be a toss-in or part of the outgoing package. Aside from professional pride, there's the issue of uprooting your family, learning a new system, adapting to a new coach and fitting in with new teammates. The NBA is a business so all of that is usually taken for granted, but that doesn't make the process any more pleasant.
If the Knicks did trade Billups, he would join his third team since just before the 2011 NBA trade deadline, when the Denver
Nuggets
off-loaded his 8-figure contract in a blockbuster deal that saw All-Star forward
Carmelo Anthony
land with the Knicks. Billups' 2011-2012 expiring contract is worth $14.2 million, meaning it's a virtual guarantee that he will be a part of any trade for a name player that the Knicks execute this season.
Acquiring Billups, 35, would provide instant financial relief for a team looking to rebuild, but that alone won't be nearly enough to swing another blockbuster. The Knicks will need to find a way to turn their current players into draft picks -- since they've already traded a number of their own picks in previous deals -- or sign free agents that could be repackaged in a larger trade if they want to land a name talent.
The other option, of course, would be to wait until next summer to chase a third leg for their All-Star tripod, as they figure to have loads of cap space once Billups' contract expires. Surely that would be Billups' preferred strategy because it would allow him one last run in the Big Apple and a chance to make amends for going down with injury during the 2011 playoffs, a loss that helped the Boston
Celtics
sweep New York out in four games.