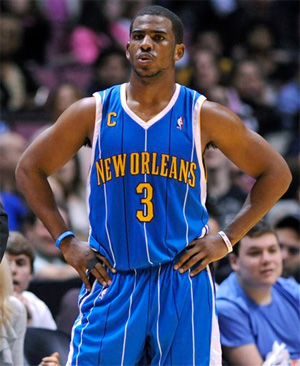 Posted by Royce Young
It's good to know
Chris Paul
doesn't live in a dream world. Because everyone pretty much understands that there's absolutely no way he can force a trade to the
Knicks
, unless for some reason
Hornets
general manager Dell Demps is just enthralled with
Iman Shumpert
and
Landry Fields
.
According to ESPN.com
, Paul "knows being dealt to the Knicks is not a realistic possibility."
Thursday, there was
a report saying that CP3 had requested a trade
to the Knicks. Already there's one report refuting that, but this one does the same.
"He has not asked for a trade to the Knicks because he knows the Knicks don't have anything to offer," a source said. "He wouldn't insult the Hornets by doing that."
But also this: "The source did not confirm or deny reports that a representative for Paul has told the Hornets their point guard wants to be traded to the Knicks, but league sources say team general manager Dell Demps will not take any action until he hears directly from Paul regarding his intentions."
This is how it works though. There's a back-and-forth, a lot of stuff being done in the dark and a lot of whispers one way and not the other. It's all a PR game. CP3 doesn't want to stay in New Orleans, especially if that roster isn't going to be built to contend. So he's trying to plan the best exit he can possible. Where it looks like he wanted to be there but just couldn't refuse the offer he got.
That starts by making sure everyone knows that he's not "requesting" a trade to New York, even if he really is.
With Paul very likely not re-signing with the Hornets, Demps would prefer to get max value out of him and that would happen by dealing him before the season. If CP3 has decided it's Knicks or bust, another team might think it could sway CP3 into re-signing there with a season in their city.
As Matt Moore of CBSSports.com points out
, Orlando could be that perfect one-year destination.