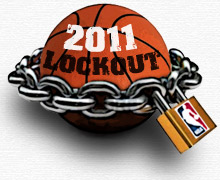 By Matt Moore
The lockout, technically, isn't over. The union reformed Thursday after a majority vote from its members. The deal has a "handshake agreement" but the finer points haven't been worked out. And to that end, Billy Hunter, executive director of the NBPA (again) informed players in a letter obtained by ESPN.com that they would meet with the league on Friday to iron out the details.
The NBA and the reformed players union will resume negotiations on the remaining terms of their new labor agreement starting Friday at noon, according to a letter sent to union members Thursday night by NBA Players Association executive director Billy Hunter.

In the letter, obtained by ESPN.com, Hunter tells players that the owners and NBPA "still must negotiate numerous non-economic matters, including the anti-drug agreement, commissioner and team discipline, and workplace rules, together with relatively smaller economic and other contract issues."

The unions hope, according to Hunter, is that the deal tentatively agreed to in the early hours of last Saturday morning will be fully negotiated and ready to present to the union membership at a general meeting next Wednesday in New York City. The meeting will be mandatory for team player representatives but open to all players.
via
NBA, players association to discuss remaining terms of new labor deal Friday, according to Billy Hunter - ESPN Dallas
.
Among the details to be considered are the stipulations regarding the D-League, the NBA draft age limit, drug testing, and other smaller issues. Multiple reports have indicated that the age minimum is expected to stay at 19 for the time being though a longer-term change is being contemplated. An ESPN.com report earlier in the month caused panic with a proposal involving the D-League and teams being able to assign players for the first five years of their career and pro-rate their salary at $75,000 per year. This is a pretty obvious non-starter, but never say never with these owners.
So there's one more day to be concerned about a breakdown, but it's widely expected that none of the details left on the table would override the agreement in place. If you want to be really nervous, more concerning might be that Hunter's letter indicates the players are planning to vote on the deal on December 8th, just a day before training camps are scheduled to open next Friday.
The beurocracy goes on.