Posted by Ben Golliver.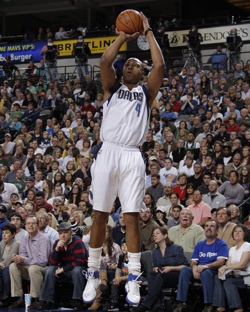 Miami
Heat
All-Star forward averaged 25.8 points, 7.8 rebounds, 6.6 assists, 2.4 steals and 2.0 blocks per game in the Eastern Conference Finals against the Chicago
Bulls
. What more do you need to know about where Chicago should focus its attention during free agency than that?
The Chicago Tribune reports
that
Caron Butler
, a big, athletic and skilled wing, could land in Chicago to help close the drastic perimeter gap between the two odds-on favorites to represent the Eastern Conference in the NBA Finals this year.
Caron Butler has been working out in Chicago this offseason and is fully rehabilitated from surgery on his right knee. As the NBA free-agency period begins the test-the-waters mode, Butler's interest in the Bulls is legitimate, according to league sources. One source close to Butler said that Butler said early Thursday morning, "I hope I don't have to leave."

Interest in Butler is widespread. The Spurs, Heat, Clippers and Bulls are among the teams that expressed serious interest in him on Wednesday, the first day teams could contact agents. It's possible the Mavericks will enter the arena in an attempt to re-sign him too.
Dallas is in a tough spot here. They are already well over the salary cap and will go into luxury tax territory if they are able to accomplish their top free agency goal: re-signing center
Tyson Chandler
. Butler has
said he wants to return
but retaining him would come at a doubly steep price for Dallas. Same thing for fellow free agents J.J. Barea and
DeShawn Stevenson
. Nobody wants to bring the whole title-winning crew back more than owner Mark Cuban but it is a fiscally insane proposition.
Butler got a taste of a title last season but a serious knee injury prevented him from making an appearance down the stretch. He's three seasons remove from his career year -- 2008-2009 -- and he's 31 years old now, so the downslide is approaching. His scoring ability and 6-foot-7, 217-pound size are the major selling points and are badly needed by the Bulls. It's possible a team that is below the cap could offer Butler more than a Mid-Level Exception but if he leaves Dallas he probably makes the most sense as a full-MLE guy on a team with a real shot at title contention. That would, obviously, include the Bulls.