Posted by Ben Golliver.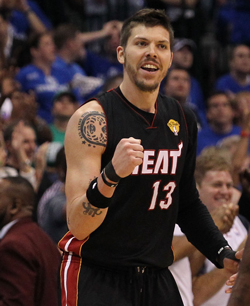 NBA practice facilities finally opened on Thursday morning, and Miami's opened with a bang.
The Sun-Sentinel reports
that Miami
Heat
forward
Udonis Haslem
told reporters that Heat forward
Mike Miller
underwent hernia surgery during the lockout and is expected out for an extended period of time as he recovers.
"They say 8 weeks, but I'm not a doctor," Haslem said,
according to ESPN.com
.
A 2-month absence would keep Miller out of training camp, preseason, and roughly the first month of the NBA's regular season.
The Heat were already facing a decision on
whether or not to amnesty
Miller, who struggled with injuries last season and averaged just 5.6 points and 4.5 rebounds per game in 41 appearances. A solid all-around forward when healthy, Miller is an intelligent, hard-working floor-spacing and ball-moving threat. But he plays the wing, where Miami is fully loaded, and is set to $5.4 millon this year with a contract that runs through 2014-2015.
The best arguments for keeping Miller would be that he is primed for a bounce-back year from near career-lows in every category and that the thin Heat need his veteran reliability on a roster that obviously lacks depth after the Big 3 of
LeBron James
,
Dwyane Wade
and
Chris Bosh
. But if he can't get on the court for nearly half of the abbreviated 2011-2012 season, those arguments go straight out the window. An ultra-patient argument could be made that the Heat don't need him until the postseason anyway, but the injury list is so long at this point it gets harder and harder to justify waiting.
For billionaire Micky Arison, swallowing the money still left on Miller's contract isn't that bitter of a pill, especially because Miami can re-allocate those cap dollars to a Mid-Level Exception target like free agent
Samuel Dalembert
, among others. The Heat don't have any other terrible contracts for whom they would want to save the amnesty clause for later, so the table is set for a swift, clean break.
Miller, for his part, recently put his house on the market, so he's clearly prepared if the Heat do pull the plug.
Haslem on recovery time for Mike Miller's hernia surgery.