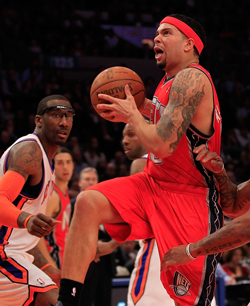 Posted by Royce Young
Not surprising news in the slightest, big big nonetheless:
According to The Record
,
Deron Williams
will not sign an extension with the
Nets
and will just plan to play this season out.
Big news because that basically means it'll be open season on Williams in 2012 and the Nets will have to convince him he should stay. Not surprising because the Nets haven't done anything yet to impress him. Just talking about
Dwight Howard
and Nene really doesn't do a whole lot. Actions, not words, are what are going to impress Williams.
"Deron will not be signing the extension," Jeff Schwartz told The Record. "Based on the new rules it doesn't make any sense for him to sign the extension. It has nothing to do with how much he likes New Jersey. Because of the rules, he's going to play the season out and probably opt out of his deal."
But this just illustrates what a risk the Nets took last year when they decided to trade
Derrick Favors
, draft picks and
Devin Harris
for Williams despite not knowing if he'd stay with the team. The Nets wanted to make a big splash for when they moved to Brooklyn and wanted that cornerstone piece.
Problem is, that cornerstone piece might just be with the organization for one and half lame duck seasons before taking off and signing with Dallas, or someone else. Again, a serious risk taken by Billy King and the Nets.
It could still pay off though. This isn't the
Carmelo Anthony
situation. The Nets aren't going to be dealing Williams and still have a full season to bring him around. Their eggs are in his basket so they're going to be pushing for another big name to pair with him and won't just pull back and deal him. At least I wouldn't think that would be the plan.
King was asked Wednesday on WFAN in New York
if he'd consider trading Williams if he didn't sign an extension. King's response: "Absolutely not."
"Fortunately I was around him quite a bit before July 1st and I felt pretty good," King said. "I still feel pretty good because we have a lot of things going for him. We got a brand new building that will be opening next season. He can be the face of a franchise in a major market, so I think there is a lot of positives in our situation for him. In the other situations those guys have been with those teams for awhile. They may want to look. They may not. I don't know."
If Williams makes it painfully clear he doesn't want to stay with the Nets though, shouldn't they just cut their losses and get something back? You'd think so, but again, King and the Nets are planning on Williams be their man for the future.
It could happen still. Don't think for a second that Williams passing now is a death sentence. Lots of time left, but Williams just wants to wait and see. Which is what he should do. In fact, Williams understands that himself. He tweeted this Thursday after all the noise broke earlier in the day:

He's right: He can make more in free agency than he could signing an extension. So why wouldn't he opt out and in the meantime, give himself some options?
Like I said, Williams was never planning on signing an extension before the season. The Nets had to do the due diligence and make the effort, but it wasn't happening. Not until Williams can be convinced that's an organization he wants to commit to long-term. And it very well could be. Billy King's got a year to make it look that way. The clock starts ticking now.