Posted by Ben Golliver.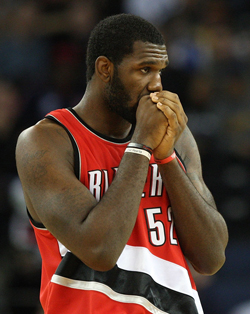 PORTLAND, Ore. -- The endless wait continues.
Portland
Trail Blazers
center
Greg Oden
, who last appeared in an NBA game on Dec. 5, 2009, will not be ready for the start of the 2011-2012 NBA regular season.
Portland Trail Blazers president Larry Miller made the news official while continuing to express full support for the oft-injured center during a meeting with reporters at the Rose Garden on Wednesday. Miller made it sound like Oden's return to Portland is a foregone conclusion despite the fact that he is a restricted free agent.
"Greg is a part of our Plan A," Miller said.
Back in October, the No. 1 overall pick in the 2007 NBA draft informed fans on Facebook that he had begun running, but
The Oregonian recently reported
that Oden has not yet been cleared for basketball activities during his current rehabilitation from knee surgery.
Last summer, Bill Duffy, Oden's agent, said that they were targeting a potential return in January. Miller said that's still the plan.
"He won't be ready for the start of the season but we're hoping by January that he's able to play," Miller said.
A January return would come 25 months since Oden last took the court and more than 13 months since his most recent microfracture knee surgery, which occurred in Nov. 2010.
Miller said that Portland's acting general manager, Chad Buchanan, called Oden's agent on Wednesday, the first day that contact between NBA teams and agents was officially permitted. Oden, 23, was tendered an $8.8 million qualifying offer by the Blazers back in June.
"Chad also talked to Greg's agent today," Miller said. "From all indications, Greg is doing very well. His rehab is going great. The doctors are pleased with where he is. Mentally it sounds like Greg is in a good place. I think he feels good about our organization and how we've supported him through all this. Hopefully Greg will be here and will be able to help us out this season."
Oden has a number of options in front of him. He can accept the team's qualifying offer and play out the season before becoming an unrestricted free agent next summer. He can open negotiations on a multi-year contract extension with the Blazers. Or, he can see if any other teams are prepared to offer him an offer sheet during the abbreviated free agency period, which the Blazers would in turn have the ability to match.
Miller said all options, including a multi-year contract extension, remain on the table.
"We're looking at all of those," Miller said. "We are looking at having some conversations about extending, if an offer does come in we'll look at it at that point and decide if we're going to match it at that point. But we're looking at both of those situations. [A multi-year deal] is a possibility."
In the meantime, Miller said that he expects Oden to attend training camp, even if he cannot participate fully. This despite the fact that the free agency period and training camp are both scheduled to open on Dec. 9.
"He'll hopefully be in training camp," Miller said, which apparently implies that the Blazers and Oden will reach an agreement in short order. "Don't know how much activity he will be able to participate in but he should be here."