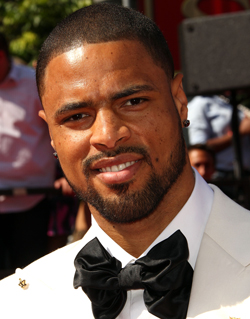 Posted by Royce Young
The lockout isn't even officially over and the
Mavericks
could be losing one of their key championship pieces already. At least
Tyson Chandler
thinks so.
"I really think I'm going to be on a new team come training camp,"
Chandler told ESPN.com in a telephone interview Wednesday night
. "I'm really taking a hard look at all of my options, trying to see what best suits me."
Chandler has already said that he feels the new collective bargaining agreement could mean he has to leave Dallas, which he wasn't happy about. The Mavs obviously want Chandler back, but if it's open season on him, he'll definitely be a top target for a lot of teams. But Chandler doesn't want to wait around.
"I would like this to be settled by early next week," Chandler said. "I want to be in camp with my new teammates as soon as possible."
But don't think just because Chandler says it's over, that it's over. This is all a negotiation, all part of the game. Chandler wants the most money he can possibly get and he's basically saying, "Hey Cuban, if you want to keep me, you'll have to pay up." Call it posturing, call it hardball, but Chandler is working to get everything he can.
Chandler has said repeatedly he wants to stay with the Mavericks and the team has maintained that their top offseason job was to bring him back. But according to the report, the Mavs fear that they won't be able to match the offers Chandler will get on the open market. Right now, assuming Dallas lets
Caron Butler
and J.J. Barea walk, the Mavs would only have $5-6 million in cap space for 2012 to make a run at
Deron Williams
,
Dwight Howard
or
Chris Paul
.
Top suitors for Chandler as of now are listed as the
Nets
,
Warriors
,
Rockets
and
Raptors
. But again, this is just how free agency works. The Mavs say they don't have the money to pay and Chandler says that he probably won't be back. Have we not learned anything from all the posturing and PR spin from the lockout? What you hear isn't what is truth.
Chandler very well may move on, but there's still time to get this figured out. I mean, the lockout isn't even actually over yet.