Posted by Ben Golliver.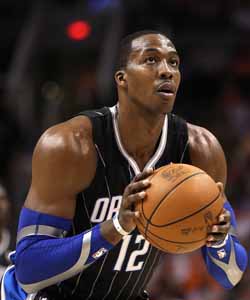 A new NBA season has apparently brought a new approach to managing the future of franchise center
Dwight Howard
for Orlando
Magic
GM Otis Smith.
After months of proclaiming that the Magic would not trade Howard under any circumstances, Smith reversed course on Wednesday in
an interview with the Orlando Sentinel
.
"I think you have to look at everything," Smith told the Orlando Sentinel when he was asked if he'd consider trading Howard.

"I don't think you can take anything out of consideration. I think, one, you have to talk to your player first. We have to figure out where his head is, not where everyone thinks his head is, and just more figure out where he wants to be. And then you have to make the best decision of what's in the best interests of the franchise. That's how I've always went about it: to make the best decision that's in the best interests of the Orlando Magic."
By this point, NBA observers can read through the phrasing without even squinting to get between the lines.
As we've learned time and again over the last few years in free agency, "take a look at everything" is the magic code phrase to fellow GMs. Translated it means: "Call me with something to look at." The phrase "talk to your players first" translates to "we will give it all we've got but we admit it might not be enough." And, of course, the phrase "best interests of the team" translates to "we aren't leaving this process empty-handed."
As recently as last April, Smith
told the Orlando Sentinel
that the team was taking a firm no-trade stance on Howard.
"The answer will be the same as it always is: No."
Obviously, it's impossible to "look at everything" if you hang up the phone immediately.
This development is not all that surprising. Howard spent the lockout traveling the world and making it clear he was keeping his options open. The Magic, like any team, would be foolish to allow a MVP-caliber superstar like Howard walk out the door without receiving a package of young talent, draft picks and salary cap relief in return.
On Tuesday,
word surfaced
that the New Jersey
Nets
were prepared to offer a trade package for Howard. The Los Angeles
Clippers
are also
reportedly interested
and the Los Angeles
Lakers
are reportedly
investigating the matter
too.
Earlier Wednesday
, Royce Young of CBSSports.com explored the question of how the Magic might keep Howard.