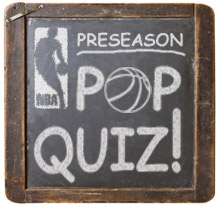 Posted by Royce Young
Fall is here, hear the yell, back to school, ring the bell
... Wait, we're almost to winter. What happened? Who cares, there's a season! The NBA season is right around the corner, and NBA training camp starts in just a couple weeks. To get you ready for the season, we've put together some pop quizzes. Pencils ready? We start our
Pop Quizzes
with this question...
It's been less than a week since the lockout unofficially ended and there have already been 400 reports about Dwight Howard. He's going to Los Angeles. He's going to New Jersey. He's going to Boston.
Have we considered this one: He
may
not be going anywhere.
OK, so that's pretty unlikely. But Howard, unlike
Carmelo Anthony
, hasn't actually made it painfully obvious that he doesn't want to stay with the franchise that drafted him. Howard has said things like "I want to be in Orlando," "I love Orlando," "I want to win in Orlando," and so on and so forth.
And on top of that, with all this trade speculation going absolutely crazy already, remember this one:
Magic
general manager Otis Smith said right before the lockout started
that he would NOT trade Howard mid-season
. Smith is convinced Howard will stay and re-sign in 2012, so he's going to take that chance.
Smith put it this way about trading Howard: "The answer will be the same as it always is: No."
But he's already changing his tune.
He told the Orlando Sentinel this Wednesday
: "I think you have to look at everything ... I don't think you can take anything out of consideration."
It's a hefty risk to take not to consider trading him, but then again, the Magic are probably right to take it. Howard so far, hasn't indicated he wants to leave. And just because a player says he wants to look at his options, it's not the black spot for a franchise. Maybe he really wants to look at his options. (By the way, Howard himself hasn't used that line yet.)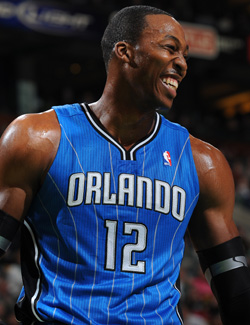 Proclaiming "no" to all trade offers sounds pretty straightforward. Of course, things change. Opinions change. People change. And if Smith becomes more and more convinced that Howard will be leaving for another team com July 1, 2012, he might reconsider that position. Which it looks like he already is. As Denver's GM Masai Ujiri proved, sometimes it's worth giving up your man and getting the most you can back.
And Smith has an advantage because Howard hasn't necessarily zeroed in on one place he wants to go (yet). Meaning the Magic can get offers from more than just one place.
But that's not the concern for Smith and the Magic. Not yet. They're still focused on keeping their franchise man. And I think they can. I don't take Howard as a liar, as someone that's just saying nice things for the sake of it. I think he wants to stay with the Magic as long as they afford him that possibility. Meaning, he's got to have a team around him that he can win with.
Not for a lack of trying, Smith has tried to give Howard a roster to win with. They've failed miserably for the most part, but he's tried. It really lines up almost exactly the same as Danny Ferry's efforts in Cleveland to give LeBron a roster he could win with.
Gilbert Arenas
was a failure.
Hedo Turkoglu
as well.
Jason Richardson
was and still is a nice piece, but he didn't have a favorable role.
What the Magic need is a point guard that can relieve pressure and open up the game for Howard and a go-to scorer that can shoulder the load late in games. Arenas and Turkoglu were supposed to combine to be those people last year and it didn't happen.
But if Smith can give Howard a team he likes and one that can truly compete, I honestly think there's a chance he re-signs. He's got a brand new arena to play in that's one of the nicest in the league, Orlando is a nice market and the team has been solid. It's just about impressing him enough to convince him to commit to a future with them. It's like a boyfriend trying really hard to impress his girlfriend that he knows is too good for him. That's what Smith has to do. He's got to woo Howard this season. Roses, chocolates, a roster that can make it to The Finals -- you know, that stuff.
Last season's playoff exit might've been a major nail in the coffin, but there's a chance for redemption this season.
Unless you trade him.