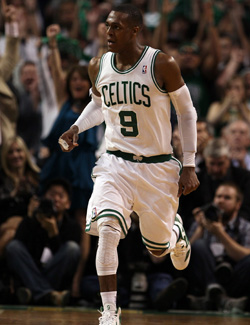 By Matt Moore
This is starting to get out of hand. Teams are officially allowed to contact agents only starting Wednesday (though they've been talking back-channel for days), and already the rumor mill is spiraling out of control at full speed. On Tuesday it was the
Lakers
wanting to pursue
Chris Paul
and
Dwight Howard
, the
Celtics
wanting Paul
,
whether or not
the
Knicks
can pull off grabbing Paul, the
Nets
pursuing
Dwight Howard via trade. And now we can throw another one on the fire.
The Celtics are serious about getting Chris Paul. And since their straight-up offers didn't work, they're now trying to acquire pieces the
Hornets
do want in order to turn around and move for Paul. Boston's biggest trade chip is
Rajon Rondo
, and suddenly the new team interested in acquiring the All-Star point guard is... the Indiana
Pacers
?
From Yahoo Sports:
As Boston Celtics general manager Danny Ainge aggressively pursues possible deals for Rajon Rondonotes, the Indiana Pacers have emerged as an intriguing suitor for the point guard, league sources told Yahoo! Sports.

For the past few days, Pacers officials – and third-party surrogates – have been making calls and gathering information and insight into Rondo's reputation as a teammate and leader, sources said.

The Pacers and Celtics have discussed the preliminary framework of a deal, but two sources said Indiana would need a third team to provide Boston with the talent it wants to do a deal. The Celtics are likely trying to gather the necessary pieces to make a bid for Ainge's ultimate target: New Orleans point guard Chris Paulnotes, sources said.
via
Pacers talk with Celtics about Rondo deal - NBA - Yahoo! Sports
.
Um... what?
The Pacers are not kidding about wanting to upgrade and make a run.
Darren Collison
is a young, versatile point guard with a world of upside and ability, who coincidentally (or not) learned under Chris Paul his rookie season. But Rondo is obviously an upgrade. The Pacers have
Danny Granger
to move as well, who has been on the block for years. A young center in
Roy Hibbert
, their own picks to move, and
Paul George
are also among the assets the Pacers have to offer in some combination for the mercurial Rondo.
The Pacers may have a package of assets the Celtics would want, or more accurately, the Hornets would want. But for this to go anywhere, the Hornets have to be open to the trade of Chris Paul, and there's been no indication that's the case. Dell Demps and Monty Williams will have to establish whthe they're willing to give up on the franchise player and if so, at what price.
But it's painfully clear that the Pacers want to upgrade, and that the Celtics want Paul. Training camp hasn't even started and already the player movement talks are running in the red.