Posted by Ben Golliver.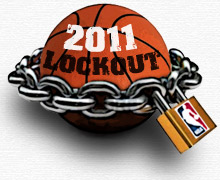 The next major step towards recovering the 2011-2012 NBA season is reportedly under way.
On Nov. 14, the National Basketball Players Association
filed a disclaimer of interest
, formally disbanding as a union so that the players could file an antitrust lawsuit against the NBA. On Saturday morning, representatives of the NBA and its players
reached a tentative agreement
to settle the litigation, end the ongoing NBA lockout and salvage a 66-game regular season.
Both sides must formally approve of the deal, though, and there's an extra hurdle on the players' side because of the antitrust lawsuit. To formally approve of the new collective bargaining agreement, the union must re-form and conduct a vote of its members.
SI.com reports
on Tuesday that the NBPA "sent out authorization forms to its players requiring signatures to reinstate the union."
NBA.com reported
soon after that the voting process to re-form is currently under way.
NBA players have been mailed cards that will begin the process of re-forming their union, according to a source.

Players must indicate their preference to either re-form the National Basketball Players Association as their representative for collective bargaining purposes, or to reject the re-formation of the union. After they indicate their preference and sign the card, they are to scan the card and e-mail it to a neutral observer from the American Arbitration Association, who is acting as an election monitor and overseeing the process. The original card is to be mailed back to the offices of what was (and will likely be again) the Players Association in New York. A simple majority of voting players, those who return the cards with the "yes" vote, would allow the union to re-form.
Once the union is put back together, the players will then vote to approve the tentative agreement that has been recommended to them by NBPA executive director Billy Hunter.
In a letter to all players sent on Monday,
obtained by SI.com
, Hunter wrote: "We support this settlement of the antitrust case. We appreciate your trust and solidarity and look forward to working through the process described above in the very near future so we can get back to doing what we all want to do: play basketball. We expect the authorization, recognition, and negotiation process will wrap up in the next several days so we can present you a new CBA for player ratification."