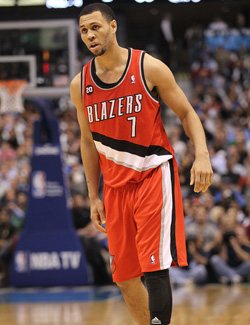 By Matt Moore
Brandon Roy
is all of a sudden the hottest topic on the table, all thanks to his bad knees and the NBA lockout. Roy is a candidate for the Blazers to exercise their amnesty clause on, as
the Oregonian reported this week
. The amnesty clause allows teams to waive a player, removing his salary from the cap and subsequent luxury tax implications, while still having to pay out the rest of his contract. Under the terms of the new CBA, an auction will be held with teams who have cap room able to bid to take on all or part of the player's contract. The winning bid counts against the new team's cap, it's believed.
Roy, they'd be on the hook for over $68 million to pay him over the next four seasons. (We'd just like to point how monumentally stupid giving Roy this extension given their prior knowledge of his health was. $68 million. Seriously.) In 2014-2015, he's on pace to pull in $19.3 million alone. (Again, stupendously stupid.) If a team in the amnesty auction were to offer $6 million and win the bid, that $6 million would be their cap hit for Roy, while the Blazers would pay the remaining balance, without it affecting their cap.
Monday we shared a report that indicated that the
Timberwolves
were interested in Roy. Monday night, the Contra Costa Times reported the
Warriors
are also in on the hunt should the Blazers release Roy.
But the Warriors are in the market for a veteran guard, likely at shooting guard. And a couple team sources let me know that if Brandon Roy is indeed Portland's amnesty choice, as the Oregonian reported, the Warriors are definitely interested.
via
Can You Picture Brandon Roy in a Warriors Uniform? - Inside the Warriors - with Marcus Thompson
.
The reality is that no one has forgotten what Roy was capable of in 2008, nor what he did to the
Mavericks
in that one game in Portland before the Mavericks snuffed the life out of the Blazers' season. When healthy enough, he's able to score from everywhere on the floor, attack and nail tough jumper after tough jumper. Mark Jackson could use an experienced veteran like Roy in Golden State to set an example. But there are so many questions about Roy, because of the meniscus in his knees, or lack thereof.
ESPN reports
that the
Bulls
are also interested in pursuing Roy, but due to their cap situation, they would have to hope he falls through all the teams with cap room's open hands first, which is highly unlikely to occur. Roy makes a lot of sense for the Bulls, who wouldn't need him to create off the dribble and who could still fit him into their defensive system. Brandon Roy on one leg is still better than
Carlos Boozer
on two.
Is Roy worth the flier to see if he can contribute? Absolutely. But he comes with an inherent risk, that he could be physically unable to compete on any given night. The first question is whether he'll be amnestied. From there, the bidding war for Roy begins.