Posted by Ben Golliver.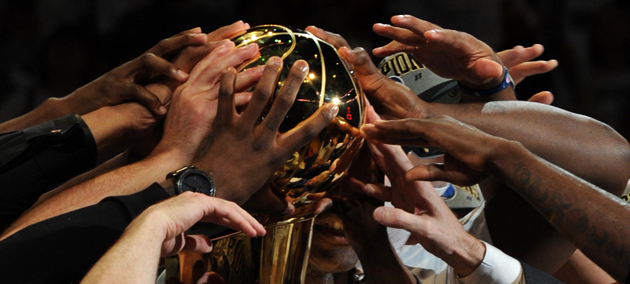 The Miami
Heat
's redemption question will commence with the highest possible expectations.
Bodog.com
lists the Heat as the odds-on favorite to win the Eastern Conference and considers the Heat the top bet to win the 2012 NBA Finals.
LeBron James
,
Dwyane Wade
,
Chris Bosh
and company are the favorite to win the 2012 Finals at 9/4 with the over/under on their regular season win totals set at 48.5 during the 66-game season. They are 1/1 odds to win the Eastern Conference.
After Miami, the rest of the top-5 title contenders include: the Los Angeles
Lakers
(5/1), Chicago
Bulls
(7/1), Oklahoma City
Thunder
(15/2) and the defending champion Dallas
Mavericks
(17/2). After that group, the next tier includes the Boston
Celtics
check in at 12/1, the New York
Knicks
at 20/1, the Orlando
Magic
at 22/1, both the Memphis
Grizzlies
and San Antonio
Spurs
at 25/1 and the Portland
Trail Blazers
are at 30/1.
The teams with the worst odds are the Charlotte
Bobcats
, Cleveland
Cavaliers
, Minnesota
Timberwolves
, Sacramento
Kings
and Washington
Wizards
, all listed at 150/1. The Toronto
Raptors
are dead last, listed at 200/1.
The defending Eastern Conference champion Chicago Bulls are listed as 5/2 odds to repeat in 2011-2012. The defending Western Conference champion San Antonio Spurs are listed as 10/1 odds to repeat.
With last year's Finals appearance, another year to gel and a Mid-Level Exception with which to add a serviceable center, it makes sense that Miami, who blew fairly easily through the Eastern Conference playoffs, is listed as the best bet. The Lakers and Bulls are both right about where you would expect them, with the Celtics taking a hit due to questions about their hole in the middle and overall depth and age concerns.
The Mavericks drop a bit because of questions circling how many of their important free agents --
Tyson Chandler
, J.J. Barea,
Caron Butler
,
DeShawn Stevenson
-- will return. The Thunder, who appeared in the Western Conference Finals and bring their entire rotation back intact, might be the best value on the board, given their combination of superstar talent (
Kevin Durant
,
Russell Westbrook
), valuable role players (
Kendrick Perkins
,
Nick Collison
,
Serge Ibaka
) and an excellent tertiary scorer in
James Harden
.