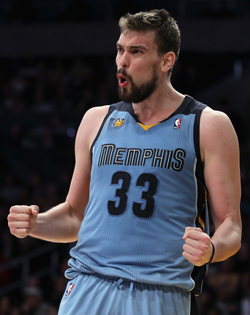 Posted by Royce Young
Last season the
Grizzlies
were a fun, surprise team. This year, they're a legitimate contender with real expectations.
But that hinges on one important thing: that
Marc Gasol
returns.
Gasol is a restricted free agent and with Memphis being a small market team that's supposedly a bit conscious of where it spends, Gasol could be a tricky piece to re-sign. Memphis just inked
Rudy Gay
, just inked
Zach Randolph
and just inked
Mike Conley
. That's a lot of money tied up already, so keeping the likely pricey Gasol could be an issue.
Especially since Gasol, along with Nene, might be the top free agent target out there. But he's a restricted free agent, meaning Memphis can match anything offered to him. And that looks to be an important part of this.
According to the Memphis Commercial-Appeal
, Memphis plans to match anything offered to Gasol.
"People with knowledge of (owner Michael) Heisley's thinking are convinced that the Grizzlies will match any offer sheet Gasol signs with another suitor."
Heisley had previously said back in May
that it would be up to Gasol whether or not he stayed in Memphis.
"Marc will decide whether he wants to be here. We will aggressively go after him," Heisley said. "He's a restricted free agent, so we can match whatever's out there. But obviously if Marc wants to leave, I'm going to have a different attitude than if he wants to stay. I hope he wants to stay. And after what we've done in the playoffs, I think he will."
With Memphis's deep playoff run and Gasol in the center of it (literally), you can be sure that only strengthened Heisley's conviction to re-sign Gasol.
The Grizzlies would likely have to adjust in order to keep Gasol as part of the core.
O.J. Mayo
will likely be packing his bafs (he's a restricted free agent in 2012) and
Shane Battier
likely won't be re-signed (he's unrestricted). So Mayo, who the Grizzlies tried to trade at the deadline last year, will likely be something the Memphis tries to move at some point this season as well.
Re-signing Gasol means Memphis basically would be putting all its long-term eggs into the basket of Gay, Gasol, Randolph and Conley, which isn't a bad core. But is it a championship one? Eh...
Memphis also could sign Gasol to an extension, and is able to pay him more and for longer than any other team. As for being restricted, remember, under this new collective bargaining agreement, the Grizzlies have three days instead of seven to match. And seeing as how the Grizzlies struggle with deadlines (hello O.J. Mayo trade), someone better be on the ball in Memphis.