Posted by Ben Golliver.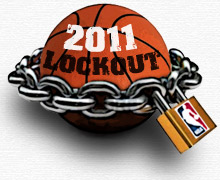 After representatives of the NBA and its players met for 15 hours of labor negotiations Friday into Saturday,
Ken Berger of CBSSports.com first reported
that a "tentative agreement [was] reached, according to one of the negotiators."
The lengthy face-to-face meeting re-opened negotiations after the National Basketball Players Association disbanded to file an antitrust lawsuit against the league last week.
Talks began at noon Friday and ran past 3 a.m. Saturday morning. The NBA and its players held a joint press conference after 3:30 a.m. to announce the tentative deal.
"We have reached a tentative understanding," NBA commissioner David Stern confirmed. "We're optimistic that the NBA season will come to pass on Dec. 25, Christmas Day, with a triple-header."
Training camps would begin on Dec. 9, according to Stern, if everything plays out as expected.
Yahoo Sports reported
that free agency and training camps would open concurrently once the deal is approved by both sides.
Former NBPA executive director Billy Hunter repeated Stern's message.
"I want to announce... that we are happy that we have been able to reach a tentative litigation settlement," Hunter said. "We're going to turn it all over to the lawyers ... and see how that proceeds ... "Once we present it (to players), we're confident they will support it."
The three games
originally scheduled
for Christmas Day include: the Boston
Celtics
at the New York
Knicks
, the Miami
Heat
at the Dallas
Mavericks
, and the Chicago
Bulls
at the Los Angeles
Lakers
.
Stern said that the league has scheduled a conference call with the NBA's Labor Relations Committee to present the proposed agreement on Saturday. The NBPA must re-form its union to ratify the agreement as well. This step is considered a formality.
"We want to play basketball," said San Antonio
Spurs
owner Peter Holt, head of the NBA's Labor Relations Committee. "Let's go play basketball."
Here's video of Stern and Hunter announcing tentative agreement on Saturday morning.
Berger reported
that, in addition to former NBPA executive director Billy Hunter, former NBPA president
Derek Fisher
and former NBPA board member
Maurice Evans
, the players were led into the negotiations by attorney Ron Klempner and economist Kevin Murphy. The league was represented by Stern, deputy commissioner Adam Silver, Holt and NBA general counsel Rick Buchanan. NBPA attorney Jeffrey Kessler, who
recently said
that Stern treated NBA players "like plantation workers," was not present.
The two sides reportedly exchanged "back-channel" communication on Tuesday and Wednesday for the first time since Nov. 10, when the NBA made its latest formal proposal to the players, which was rejected, as the players opted to file suit instead.
Saturday is the 159th day of the ongoing NBA lockout.