Posted by Ben Golliver.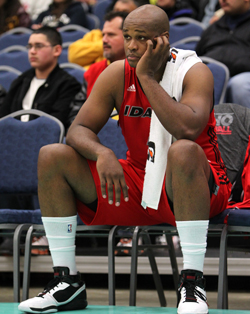 Employee No. 8 has been asked to clean out his desk and turn in his badge, at least for now.
The D-League's Idaho Stampede announced on Wednesday that former NBA All-Star Antoine Walker did not make the team's final 10-man roster cut and has been waived. The team's press release cited "personal reasons" for the decision and noted that the Stampede still hold Walker's D-League rights.
Walker's release comes roughly one year after Walker
made the decision
to mount his NBA comeback in the American minor league. In 43 games during the 2010-2011 season, Walker averaged 16.0 points, 6.3 rebounds and 3.4 assists for the Stampede.
Walker, a notorious high-roller as a player, earned more than $108 million in NBA salary yet was
forced to plead guilty
to writing bad checks after accruing more than $750,000 dollars in Las Vegas gambling debts.
On Monday,
RidiculousUpside.com reported
that Walker had not yet reported to the Stampede and had plans to host parties in Chicago when the Stampede was scheduled to play the Dakota
Wizards
in North Dakota. The site reports that Walker may join the Stampede later this season.
Walker, 35, last played in the NBA during the 2007-2008 season. A three-time All-Star and a member of the 2006 NBA champion Miami
Heat
, he retired with career averages of 17.5 points and 7.7 rebounds per game. His 12-year NBA career included stops with the Boston
Celtics
, Dallas
Mavericks
, Atlanta
Hawks
, Miami Heat and Minnesota
Timberwolves
.