Posted by Ben Golliver.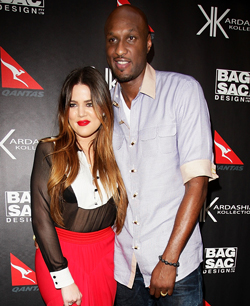 Aside from the standard Kardashian family fare -- hawking cheap cologne, showing up in the tabloids -- it's been a fairly quiet NBA lockout for Los Angeles
Lakers
forward
Lamar Odom
.
He's barely been heard from in international rumors, which is a sign that he probably hasn't been all that interested in the idea of going overseas, given how thoroughly reported talks between international clubs and star players have been over the last six months.
That silence broke on Tuesday
when ESPN.com reported
that Turkish club Besiktas recently extended a contract offer to the 2010-2011 NBA Sixth Man of the Year.
The Turkish team that features New Jersey Nets guard Deron Williams is pushing now to add Los Angeles Lakers forward Lamar Odom to its roster, according to sources close to the situation.

And Odom, sources said, is giving the offer real consideration after Minnesota's Kevin Love turned down the chance over the weekend to join Williams with Istanbul-based Besiktas.

Odom turned 32 earlier this month and is considering whether to accept the proposal, sources said. Odom is well regarded in Turkish basketball circles following his strong play in Istanbul in the summer of 2010 for the victorious Team USA at the World Championships.
Odom is 32 and 2011-2012 represents the final fully-guaranteed year of his contract with the Lakers. A semi-star player at Odom's age without insane amounts of future guaranteed money on his current deal at stake is generally a pretty solid candidate to consider testing the overseas waters, especially if the NBA's current situation continues to look bleak.
Of course, Odom brought reality television cameras into an NBA locker room during a title run so he doesn't represent a normal situation. Besiktas is clearly a motivated buyer,
having recently been linked
to NBA All-Star Kevin Love, among other stars, in their quest to find a replacement for Cleveland
Cavaliers
center
Semih Erden
, who
recently broke his thumb
. The club spent all summer drooling over Lakers All-Star guard
Kobe Bryant
, but came up empty.
It's difficult to envision a move overseas without a reality television script to support it. Lamar and Khloe are Unbreakable™ so there's no way this becomes a case of "pack up the bare necessities and spend a few months making money" solo jaunt. But if Kim Kardashian balked at moving to Minnesota for
Kris Humphries
should we be all that confident that an extended Istanbul adventure would draw serious consideration from Khloe?
Probably not. Odom's family connections give him access to financial opportunities not available to a vast majority of NBA players, even stars. It seems like the most profitable path during a lost season would simply be to ramp up the behind-the-scenes footage and roll out some cheap new branded merchandise. Why leave the center of the celebrity-obsessed media universe to chase non-NBA basketball money?