The Draftbook is a collection of notes on prospects from our evaluation of players. Contributors come from all across CBSSports.com and are noted at the end of all notes. Notes on each player may be from multiple contributors.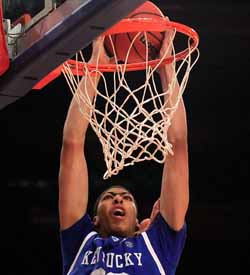 Anthony Davis
[University of Kentucky freshman Anthony Davis has emerged as the consensus No. 1 pick in the 2012 draft owing to his unique combination of size, length, instincts, skill level and finesse. His ability to block shots as a one-on-one post defense and help defender are his calling card. He can close down passing and driving lanes, step out to defend the high post and switch onto perimeter players if necessary without getting immediately exposed.
Davis has regularly drawn comparison to Marcus Camby thanks to his shot-blocking and rebounding abilities. He will need to improve his strength – both upper and lower body – to become a Camby-esque rebounder at the next level, but he keeps plays alive and taps balls out relying on his wingspan alone.
Tall and long enough to eventually play center in the NBA, Davis nonetheless freely moves around the perimeter, is comfortable turning to face the basket and has enough feel to develop a mid-range game. There's a very real possibility that he turns into one of the best high screen-and-roll threats in the NBA. Davis has the size and footwork to set a worthwhile screen, the grace to roll quickly to the basket or fade to a spot, the hands to receive the pass and the length and leaping ability to finish well above the rim. He also could become an excellent high-post player with the skill to face the hoop and either use a dribble to collapse the defense or feed a more traditional low-post scorer with an entry pass.
Davis isn't ready to be a franchise-changing player straight out of the gate but his learning curve won't be that steep. He's far more polish than project and should be in the All-Star discussion within four seasons assuming he continues to fill out.] - Ben Golliver

[Davis' best offensive ability so far has been in the pick-and-roll. Kentucky has ran it more this season than in years prior, and Davis has been a huge part of that. He sets solid screens and with his prior knowledge as a guard, understands how to navigate the lane for the passer. It doesn't hurt that his 7-4 wingspan allows him to pretty much catch and destroy the rim anytime they can execute the pass. He hasn't been asked to do much beyond that offensively, and scouts will want to see him play with his back to the basket as well as from short-range face-up. He's not the complete package, but his skillset just provides so much, it's easy to see why he's the consensus No. 1.

Defensively everyone will rave about the measurables and athleticism, but maybe the more impressive element is how much effort Davis puts into that end of the floor. He's able to attack weakside and recover to his man, and there's not a shot he can't block. The phrase "JaVale McGee with a higher basketball IQ" has entered my mind more than one time when watching him defensively. That said, he hasn't faced a true post player defensively, and considering his slender frame and the fact he hasn't grown into his length yet, that's going to be an area of concern. Likewise he needs to improve his ability to hold rebounding ability because eventually he won't be simply long enough to snag whatever comes his way.] - Matt Moore

Michael Kidd-Gilchrist

[Davis is the No. 1 overall at this point, but it's entirely possible that instead of Harrison Barnes or Jared Sullinger, two Wildcats are taken back-to-back at the top of the draft. Michael Kidd-Gilchrist has been very impressive early on, and even more so when you consider his pro prospects. A 6-7 forward, Gilchrist possesses an NBA-adaptable skillset with the mentality to match. His biggest weakness so far has been turnovers, but even that shows a willingness to function as a playmaker and not just as the tip of the spear. His handle in the pick and roll is going to be a major asset, and his frame allows him to back down smaller defenders. He's shooting 42 percent from the perimeter early on, and that range opens up his baseline burst which is exceptional. In short, it's hard to find a prospect element that's noticeably weak.

Defensively, he attacks well in transition and does a good job sticking. He's got a ways to go in that area in terms of technique, but his lateral quickness is sufficient and his chasedown block ability is reminiscent of some of the elite players in the game. He's a driven winner that is prone to visible frustration on the court, but not a degree he disengages when things are going poorly. MKG joins UConn's Jeremy Lamb as the fastest riser early in the season.] - Matt Moore

Harrison Barnes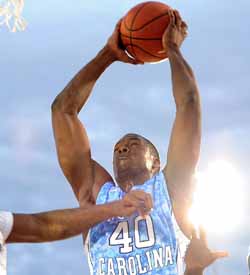 [You hear the term "NBA ready" but Barnes is all of that. His body is developed, his game is developed and mentally, he looks like he'll be prepared to step right in to a rotation.

Love Barnes' mid-range game. He strikes me a bit Rip Hamilton-ish in that he's really adept at coming off a screen and getting just enough space to release a jumper.

He uses his body well in traffic. Distributes weight and takes contact really well.

Good help defense instincts. He had one block in particular against Michigan State where he came seemingly from nowhere for a beak weakside block.

Hard to say exactly where he stands athletically. He's doesn't seem to have a lightning quick first step and in the one breakaway he had, his dunk was pretty pedestrian. Not to say he should've done a 360 or something, but I'm just not sure he's a crazy good athlete or anything. Not that he needs to be in order to make it in the NBA, but I just don't see him dunking over Dwight Howard or anything.

With Barnes, there's just a "feel" to him. He just always looks like he gets it. Where he needs to be, what shot is good and what's not, when to drive, when to pass -- he has a tremendous feel for the game. He lets it come to him and is just forceful enough.

Don't write Barnes off because he doesn't have incredible athletic ability. He's polished and understands spacing extremely well. There have been a lot of great scorers in the NBA exactly like him. ] - Royce Young

Jared Sullinger

[Ohio State sophomore Jared Sullinger has gotten lost a bit in the hype surrounding this year's freshman class hype. After an offseason that saw significant weight loss and continued skill development, Sullinger is an improved version of the dominant low-post player he was as a freshman. Add improved quickness and stamina to his long list of positive attributes that already included soft hands, an excellent nose for rebounding positioning and leverage, a wide frame, a great motor, a positive disposition and confidence as a go-to scorer.
Sullinger is crafty at sealing his man to establish position for an entry pass or, if possible, an over-the-top lob. He doesn't require possession after possession of isolation opportunities, moving off the ball to create scoring chances and relentlessly crashing the offensive boards to keep plays alive or to scrounge out garbage points.
His weight loss is most noticeable on the defensive end. During Monday's game against North Florida, Sullinger denied an entry pass in the post, stepped out to hedge on a high screen-and-roll, recovered and called out a defensive rotation to ensure the ball couldn't be rotated, and then returned back to his original man as the clock wound down, boxing him cleanly for the defensive rebound. His quickness and ease in getting from the paint to the arc to the paint in rarely seen in someone his size.
Sullinger – who is listed at 6-foot-8 or 6-foot-9 -- will be questioned about his height every day from now until he has the chance to prove he can score against NBA defenders. Until then, he will continue to be arguably the biggest force in college hoops.]- Ben Golliver

Thomas Robinson

[Surprisingly, Robinson may be the Kansas prospect I've been highest on in a decade, and that includes two members of the national championship team and two members of the Final Four team from earlier in the 00's. Robinson came in over the summer at 6-10 in a non-university measurement, with a 7-1 wingspan. His aggression inside in finishing on the putback has made him an abject beast. He's got the NBA body. There's no issue of frame or explosion-loss as he puts on weight. He's beefy and still able to detonate. He runs the floor well and can finish in traffic. He's not bothered by contact and can take and give a bump.

His lateral quickness is good enough for him to be able to guard stretch-fours at the next level, and while gaurding fives is going to be too steep of a hill to climb (he plays closer to 6-9), he's the kind of body you can trust to take a beating. He maintains a nice consistent effort at both ends and has good instincts of when to bring help.

He would benefit tremendously from showing any semblance of an offensive game outside of finshing for layups or putbacks. His back to the basket game hasn't been shown as much but he's got great a great baseline spin when he goes to it. He lacks a guard to run a pick and roll with, which is an area he might excel in, given his skillset. Robinson looks to be a solid top-ten prospect early.] - Matt Moore

[Chiseled and ready to take his game to the next level. God, that sounds so cliche, right? Except Robinson only played bench minutes last year. Now he's expected to contribute more than 30 per game. And he's ready for it. Alpha.] - Matt Norlander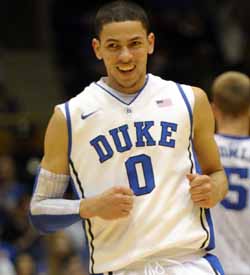 Austin Rivers
[Duke freshman Austin Rivers is another in a long line of polarizing score-first guards who need the ball to be at their best but lag behind as natural play-makers. In addition to good size – 6-foot-4, 195 pounds – Rivers has excellent burst off the dribble, comfort going both left and right, a trusty crossover going either direction and NBA range on his jumper. Put that together and he can break down a defense from the top or the wing in fairly rapid fashion. His bread-and-butter right now is getting all the way to the rim to finish, something he will be doing with less frequency at the next level. Still, he's not afraid to pull up or toss up a floater, and he moves with sufficient control that most of his attempts are fairly high percentage looks.
He gets into trouble when he starts to force things. He's prone to forcing up shots in traffic, making inconsistent reads of the team defense facing him and missing open teammates on the block or on the perimeter. It's clear he has the green light with the ball in his hands, but he can become an efficiency drag right now. If his shot isn't falling or the ball isn't in his hands, he drifts; a vast majority of his offense and opportunities are created off the dribble.
Defensively, he's best suited to guarding NBA two guards and combo guards given his height and length even if he's a bit shorter than a conventional NBA two. His generally mentality is head, as you would expect from a coach's son, but he can range from intensely competitive when things are going well to a half-touch out of control when they aren't.] - Ben Golliver

[Rivers has issues with identity, and that's going to be a problem if he attempts the leap after the first year. His size indicates a point guard, both in height and frame, but he's clearly looking to score at any and all opportunities. His vision hasn't revealed itself to be adequate yet. More notably, his passes lack velocity and accuracy, too often he's lofting college passes when the Duke offense needs him whipping the ball. He's got more than a passing fascination with NBA range and seems at times to be in a shooting contest with Seth Curry.

It's very early, so we're definitely not making an predictions about Rivers (or any player), but he's not been among the early impressers.] - Matt Moore

Terrence Jones
[University of Kentucky sophomore Terrence Jones is nearly the prototype for the NBA stretch four: versatile enough to spend some time at the three, strong enough to log minutes at the four.
A lefty, Jones rarely goes right whether he's facing up off the dribble or backing down a smaller defender in the post. He's quick, powerful and smooth when creating his own face-up offense, drawing comparisons to Lamar Odom, but his lack of range and preference for settling for easier shots rather than working for quality looks limits his utility to some degree.
Jones isn't afraid to scrap under the basket and he will be an effective rebounder on both ends at the NBA level. His motor on defense is very good and he is a high-pressure defender both in the post and on the perimeter, racking up blocks and deflections. Right now, he's equally prone to producing absurd displays of athleticism and making knucklehead decisions.] - Ben Golliver

John Henson

[It's really hard to keep Ed Davis out of your head while watching Henson. Long, lean and left-handed.

I also couldn't get Marcus Camby out of my head while watching him. He's the type of player that impacts everything defensively. His length is just unavoidable. He's everywhere in the paint. His wingspan darn near covers block to block in the paint. He's got great instincts and absolutely could lead the NBA in blocks some day.

He's got a long way to go offensively. But that's not his game. He's not going to back anyone down or pull off a big drop-step move or anything. He's not really going to be effective in the pick-and-pop game. But he's going to be available for any oop you throw and he's going to be a menace on the offensive glass, just because of his length and athleticism.] -Royce Young

[Henson's already penciling himself in for a "known commodity" spot in the lottery. There are players you take on upside and players you take because you know they'll contribute. Henson's got a strong enough set of assets and skills to assure himself a spot without ever being a star.

Offensively his greatest strength is his explosion baseline. He's most comfortable there, and with his handle on his spin move, that could be the kind of signature strength he needs. His spacing of the floor for lobs is superb. Paired with a quality point guard, his rookie production could surprise] - Matt Moore

James McAdoo

[My early impression is that McAdoo might be a player better suited with another year in college. He's just a freshman and while he's got a solid 6-8, 225-pound frame, he could still stand a little more muscle and development, especially if he's going to play the 4 in the NBA.

Speaking of, he saw just 17 minutes against Michigan State. He wasn't all that involved offensively and really looks like he's just a raw talent that needs some development. By the end of the year, he could be seeing major minutes though. There's just so much depth up front for the Tar Heels right now.

His wingspan. Talk about some length.

He's smooth. He has the look of a guy that hasn't even started scraping his potential. He could be a terrific inside-out guy.] - Royce Young

Tyler Zeller

In terms of college production, Zeller is probably the best player North Carolina has. He's a bit Tyler Hansbrough-ish in that he produces mostly on motor and effort over raw skill and athletic ability. But don't take that as he's not a good athlete. Because he can jump and run really well, especially in that seven foot body.

My question for Zeller mainly is, what will he do well in the NBA? Is he a banger? A defensive stopper? A Kris Humphries type that just churns out double-doubles? I don't think he's starting center material, but there's still a little left to his game to be developed. He has some touch.

Zeller is the type of player than can appear dominant in college because he's got tremendous size and a lot of ability within that, but when he gets to the NBA and starts seeing guys as big and athletic as him, will he be able to do the same things?

To that point, it'll likely come down to what Zeller is capable of defending at the next level. His lateral quickness didn't blow me away and I'm not sure he's really got the brute force to take on guys like Dwight Howard, Al Horford, Andrew Bynum or Nene. But is he athletic enough to cover 4s? I doubt it. He could be caught in between a bit.] - Royce Young

Kendall Marshall

[One thing sticks out when watching Marshall: court vision. He sees the floor extremely well. He had one leak out pass against the Spartans that blew me away. He got a long rebound, quickly looked up and hit a streaking teammate in the span of about two seconds. Impressive.

Some are going to think that because Marshall doesn't score much that he's not NBA lottery material. But he's a floor general in the truest sense of it. He tries to control the game from start to finish.

Good size (6-3), but not overly quick or athletic.

Not a good shooter by any means. His form is iffy from outside and he has a pretty slow motion. I could see an NBA coach trying to overhaul that.

He plays with great pace. He's quick without hurrying and always under control. It's extremely rare to see him reckless on a possession. Hardly ever makes a bad decision with the ball in his hands.

- He's going to have to improve as a finisher at the next level. What makes a good point guard isn't just the ability to control a game passing the ball, but also have the ability to drive and score. He needs to just watch Rajon Rondo and Tony Parker for hours on ends.] - Royce Young

Andre Drummond

[It's still early and Drummond's not yet adapted to that UConn offense yet. It's not the college game -- it's playing for Calhoun. Just give it some time.] - Matt Norlander

Drummond's improved tremendously since his opening night disaster. But one thing should remain in sight: there's time for the kid. It would be better not to rush a big man with his particular set of assets (raw, hyper-athletic, tremendous length, questions about mental preparation) into the next level until he's ready. If he needs a year of coming off the bench or playing a complimentary role to grow into his confidence, that will do more for him than another year of strength training in the NBA. Drummond has every ounce of potential he's been hyped to have. But there's also no reason to force him to be ready right now. We'll give him the year but remain cautious about him being a lock.] - Matt Moore

Jeremy Lamb

[Re: Drummond. Look right here. Lamb was a nobody at this time last year. Now he's seen as a surefire lottery pick -- and he's looked fantastic to start the season. Have already heard top-three talk. ] - Matt Norlander

[The dunk. That's all I needed. Lamb's the alpha dog scouts love, and probably has the greatest gain potential from season start position to season's end.

An underrated aspect of improvement? Lamb's becoming a ball-hawk. He's got great anticipation on the edge. ] - Matt Moore

Patric Young

[When you make Jared Sullinger look undersized, it's impressive. Young handled himself well against Ohio State last week, even though his team lost the game to the Buckeyes. There are plenty of people still waiting to see what Young is -- is he just a physical freak that lacks a couple of true, go-to weapons? Does he have a particular skill outside of Tyrannosauring his way around the block?] - Matt Norlander

Marquis Teague

[Here's a weird cross-section. Teague's biggest issue has been turnovers early on. He's burning through them at an alarming clip. But Teague also possesses one of the better handles I've seen from the top prospects. He's got the athletic speed you've come to expect from Calipari guards, and a killer crossover. His decision making hasn't caught up to his athletic ability yet, and it shows. Teague's likely to have one or two terrific games as the season goes on and he settles down, but he's also caught up in a team that's bursting with talent.

However... Teague's also shooting 67 percent from range this season early on. His spot-up shooting is a terrific addition to his skillset. If he can just quit with the six-turnover games, he's going to go back up the draft board.] - Matt Moore