Posted by Ben Golliver.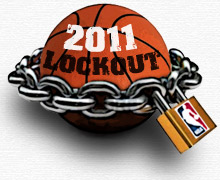 Somebody needs to step in and take control of the NBA lockout.
As Ken Berger of CBSSports.com
reported on Tuesday
, that somebody could be proven deal-maker Jim Quinn, who has recently spoken with both sides and offered up his services as an intermediary in getting the negotiations back on track.
Also on Tuesday, Billy Hunter, executive director of the now disbanded National Basketball Players Association, said that somebody could be a mediator who could begin overseeing talks as early as next week.
The catch? Federal Mediator George Cohen, who participated in two rounds of discussions earlier this fall, could be replaced by someone else, a decision left to the judge who was appointed the players'
consolidated antitrust lawsuit against the NBA
filed in Minnesota on Monday.
The Associated Press has more.
Union executive director Billy Hunter said Tuesday he expected that a Minnesota magistrate judge would mediate the players' lawsuit against the NBA, as the court did in the NFL's labor dispute.

Hunter specifically mentioned U.S. Magistrate Judge Arthur Boylan, the court-appointed mediator in the NFL talks. Boylan is not the magistrate assigned to the NBA antitrust suit, although the district judge has the discretion to appoint a different magistrate to mediate.

"What may very well be is the judge there directs the magistrate, as they did in the NFLPA case, to host a settlement conference, and that could possibly occur as early as next week," Hunter said.

One reason the players' lawyers decided to consolidate two suits against the NBA in Minnesota, he said, was that the district court there routinely uses magistrates to mediate cases.

Hunter said Tuesday that the possibility of having a magistrate mediate also played into the decision, with the same goal in mind: resolving the labor strife quickly.

"It makes it easier for the parties to get together when the court is involved," he said.
A mediator is a great idea, but he or she wouldn't have much time to work with. The NBA faces an assumed drop-dead date of early-January to reach a deal before the entire 2011-2012 season would need to be canceled. The two sides haven't met face-to-face in nearly two weeks as the players opted to file their antitrust lawsuit rather than respond to the league's most recent collective bargaining agreement proposal.