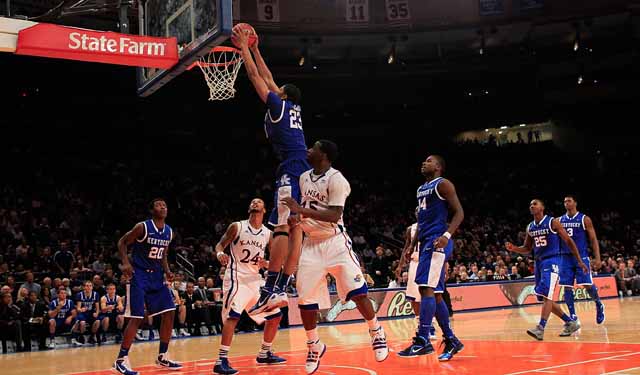 By Matt Moore
The 2012 NBA Draft could very well be the most exciting draft since 2003. For starters, it likely could be the first NBA event since the 2011 Draft. It could be a random lottery. It could be weighted. There are a number of interesting variables, and that's before we get to the player pool.
With so many players backing out of the draft last season due to the NBA lockout, this class looks to be one of the most dominant classes in recent history. It would be one thing if it was just those returning players, though, but the freshmen also make up a significant upgrade over the past few years. NBA executives are licking their chops at a chance to get a hold of some of this talent, you know, when they have a sport for them to play in.
So to get you ready for the 2012 NBA Draft, consider this your Fall Primer as college basketball gets underway.
Contingency plans
If the 2011-2012 NBA season is lost, there are only a handful of ways the draft can go. Each has dramatic ramifications and will impact the careers of hundreds of players when factoring free agents and current players on rosters. Here are the options.
1. No draft:
If the two sides can't reach a settlement by late June when the draft is to be held, it's conceivable there would simply be no draft. This is a nightmare scenario as not only are we deprived of the dulcet tones of New York fans randomly jeering and heckling the commissioner, but guys that are ready to make the jump have to risk another year of injury in college. There would be an upside, obviously, with next year being an even bigger class as the studs of this class get another year to season. But it would also set franchises back to not have that draft class at all, especially if they're rebuilding.
2. Take last year's lottery numbers and re-draw:
This is obviously the favorite of the lottery teams, particularly those teams in most need of talent, teams like Cleveland, Minnesota (this protects their pick from Boston), and Toronto. Thing is, given that there's no way to tell what the impact of the last draft would have been on the season, the fight from other teams is going to be seen as legitimate. Who knows what
Kyrie Irving
could have done for the Cavs? What if
Derrick Williams
is a bonafide star? This helps the teams that need it the most (unless they've traded their pick), and since it would still be a lottery, would still leave things open for chance (can you imagine if Houston, barely missing the playoffs in 2011, managed to snag Davis, Barnes, or Sullinger?).
The biggest reason this won't happen is that playoff and late-lottery GMs know the value of this draft. And they want a shot at it. Because rejecting this option opens the way for...
3. Equal-30-team lottery:
Imagine you're the
Lakers
. The sun is setting on the run you had with
Pau Gasol
and
Kobe Bryant
. Bryant is still very much a viable star, but the overall makeup of the team is shifting, and needs to be built around
Andrew Bynum
, in all his flagrant-fouling glory. It looks like a hard road ahead. Until you land the No. 1 overall draft pick, allowing you trade Pau Gasol and still have Bryant, Bynum, and now either Anthony Davis, Jared Sullinger, Michael Kidd-Gilchrist, or Andre Drummond, should you go for the twin-towers approach.
And the rest of the league shivered in their sleeping bags.
This idea is going to be pushed by the elite teams, who are going to argue it's the only fair way to go about it, because of the number of unknowns losing a season presents. Boston could find the answer to what comes after the Big 3. The
Bulls
could land the second star
Derrick Rose
needs. Good teams could become great. Great teams could become elite. The ramifications are staggering.
One team that doesn't improve in this situation? Miami. Cleveland has the option to swap picks in 2012 with the
Heat
, which would be pretty much the funniest thing ever if it's the Heat's pick in exchange for
LeBron James
that gives Cleveland the superstar of the future.
This scenario results in mass chaos beyond all reason. Which is why the most-logical scenario is...
4. A three-to-five-year-weighted lottery:
In this scenario modeled after what the NHL chose when it locked out for an entire season, teams are weighted based off their win-loss records over the past three-to-five years, depending on what the league opts for. The benefits are obvious. This rewards teams that have struggled over more than just last season and actually rewards the teams that have been historically bad.
One team that would be royally damaged by this process is Cleveland. The Cavs would suffer based on the playoff success back when they had LeBron James and last season's epic disaster wouldn't be enough to offset it. On the other hand, teams like the
Timberwolves
,
Kings
, and potentially even
Grizzlies
would benefit a great deal from such an arrangement. Though it would be unfortunate, most likely, for Cavs fans, it does make the most sense, to the point you wonder why each draft isn't treated like this. It's a compromise based on both the elite and basement teams' desire to nab the talent in this class, and if we lose a season, it's the most likely scenario.
The Kentucky Kid/Freakshow
Harrison Barnes may be the most complete player in the country. Jared Sullinger may be the most polished player in the country. Terrence Jones is a miniature beast. But the top of the draft? It's still kids, it's still freshmen, it's still Calipari, it's still Kentucky.
Anthony Davis has already endeared himself to rebuilding teams' fans all across the non-existent league. With a 7-4 wingspan he grew into after years of playing guard, Davis is able to move seamlessly from one end of the floor. He's active on defense and that wingspan allows him to block nearly anything. His offensive repertoire still raw as he learns to grow into his body, but off the pick and roll, he's been tremendous. Davis is the kind of raw, athletic talent that scouts and GMs drool over, and he's got the ability to back it up.
Davis
is considered the No.1 draft pick right now in the eyes of NBA personnel
, according to Jeff Goodman of CBSSports.com
It's one thing to have the wingspan and athleticism that Davis has, but he's shown an early willingness to commit on the defensive end that few prospects do. The words "JaVale McGee" have been used, and not in the usual negative way, either. He's been a swat machine,
with a 17.11 block percentage
, which is ridiculous.
He's the consensus No. 1 right now. He'll need to work on his offensive repertoire to cement his position, but as it stands, Davis looks like a superb No. 1 overall.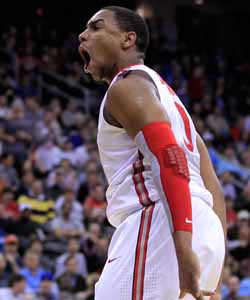 The Sullinger-Barnes Circus
Harrison Barnes was a potential No. 1 pick before last season started. But a slump to start the year put a damper on his prospect status. He recovered extremely well throughout the remainder of the year, and would have been a top-3 pick had he not decided to return to North Carolina.
Jared Sullinger, on the other hand, continues to rack up points as the "experienced" player of the draft, and one of the most dedicated to improving his game. Sullinger keeps losing weight, understanding that at the pro-level, his humongous hindquarters won't help him in establishing post position as easily and that he'll need to be a svelt combo-forward to get minutes. It's the kind of self-awareness scouts rarely see and often covet.
The draft is always a youngest-man game, with teams wanting to oversee as much of the players' development as they can. But Barnes and Sullinger will be vying in the top five for which has the most impact as the more "polished" or "complete" product. Sullinger represents the more "polished" aspect with comparisons being drawn of
Zach Randolph
and
Brandon Bass
, while Barnes is the more highly touted prospect, and is considered the most "complete" player in the draft. If Davis is the wunderkind who you can't wait to see what he becomes, Barnes is the most "OK, I know where that guy fits right away" player at the top of the board.
Stacked Competition
When North Carolina faces Kentucky in Lexington on December 3rd, there will be ten legitimate prospects on the floor. Davis, Michael Kidd-Gilchrist, Terrence Jones, Doron Lamb, and Marquis Teague for Kentucky, Barnes, John Henson, James McAdoo, Tyler Zeller, and Kendall Marshall for UNC. That game basically
is
the draft combine.
But Baylor with Perry Jones and Quincy Miller will face Thomas Robinson and KU, as well as Myck Kabongo and Texas and LeBryan Nash and Oklahoma State. There are a number of matchups this year pitting top talent against top talent, the perks of having so many quality returning players.
More unanswered questions than usual
With a draft as exciting as this one, the questions that abound have more impact than the usual amount of unknown quantities in any pool of prospects.
Is Andre Drummond too raw to be a lottery pick this year?
Is LeBryan Nash a headcase?
How much of Thomas Robinson's aggression and explosiveness will translate when he's been listed as small as 6-8? (NOTE: A Nike camp measurement from this past summer listed him at 6-10 with a healthy wingspan of 7-1.)
What position is Terrence Jones going to play in the NBA and more importantly, did
Josh Smith
clone his brain and insert it into him?
Is Michael Kidd-Gilchrist actually the best prospect on Kentucky?
Will Austin Rivers be ready to make the leap when he has such a steep hill to climb in terms of point guard skill?
We'll be tracking these questions and many more throughout the college basketball season as part of our draft coverage. There's no NBA at the moment. But the next generation of players is ready to put on quite a show.