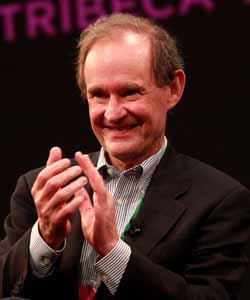 By Matt Moore
Everyone gets paid. Except the arena workers, the cops who need overtime, the parking lot guys, the local shops and restaurants, and the players. But the lawyers? They sure as heckfire get paid.
ESPN's Dave McMenamin reports
that the NBPA is withholding licensing fees from the players to pay for David Boies and his high-profile firm to represent them against the owners.
McMenamin tabs Boies' fee at $1,220 per hour
, which is now being paid for by profits the players would otherwise collectively see from jersey/trading card/ video game sales. Other estimates on Boies have him at $960 per hour, which, you know, is
so much better
. Boies publicly commented in 2007 to the
Wall Street Journal
that charging over the $1,000 mark was probably a bit much.
"Frankly, it's a little hard to think about anyone who doesn't save lives being worth this much money," says David Boies, one of the nation's best-known trial lawyers, at the Armonk, N.Y., office of Boies, Schiller & Flexner LLP.
via
Lawyers Gear Up Grand New Fees - WSJ.com
.
Of course this doesn't reflect market changes, inflation or the fact that his current client is high profile enough to warrant a higher rate. Boies' firm is on record from earlier this year saying they still charge the $960, but that may be dependent upon how the case wraps up:
David Boies, chairman of Boies, Schiller & Flexner and a prominent trial lawyer, charges $960 an hour, a spokeswoman for the firm said. But just a third of his time is devoted to matters that are billed hourly. More often his deals with clients involve alternatives such as pegging fees to his success, she said.
via
Top Lawyers Push Rates Above $1,000 an Hour - WSJ.com
.
Either way, while the players are losing paychecks every day while Boies and the league argue over who should call one another first --
no, we're serious, that's what they're arguing about
-- and that's after the union decided to disclaim interest and dissolve the union... without holding a full vote of membership.
At some point the players have to be wondering about what direction all this is going, and if the efforts to try and save them some money are going to wind up costing them more than they're saving.
Everyone gets paid.
Well, except for the people laid off, the concession vendors and the television production crew support.