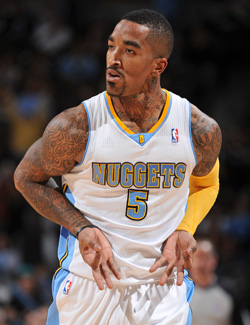 By Matt Moore
J.R. Smith
suffered a potentially significant knee injury
Sunday for the Zhejiang Golden
Bulls
, and subsequently
got into a spat
with ownership about his pursuit of consultation. But there's good news.
NIUBball.net reports that an MRI for Smith was negative
and he rejoined the team Tuesday night, putting in 15-6-4 in a win. That's a huge relief for Smith and his agent, as he's an unrestricted free agent whenever the lockout ends and is in line for a sizeable contract offer considering his age and production. This is the money contract for Smith and he's in line to cash in. A knee injury would jeopardize that.
But all's not all well that ends well, as NIUBBall.com reports that Smith's pursuit of the MRI in Beijing instead of with team doctors has them
investigating what disciplinary measures are at their disposal
. It's hard to see the team really wanting to take this to the end of its available measures, considering Smith was just pursuing what he felt was best for his health, not violating team rules out of some entertainment option.
Players who have played in China had warned NBA players before that the culture is significantly different there, and this might be an example of this. We'll have to see how the situation plays out between Smith and his new team.