Posted by Ben Golliver.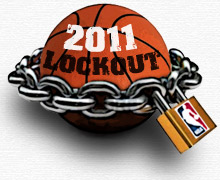 Last week, National Basketball Players Association executive director Billy Hunter
announced that his union was disbanding
so that the NBA players could file antitrust lawsuits against the NBA. The immediate question that was raised: was this a legit strategy or a legal longshot?
One week later,
USA Today reported
that one of the lawsuits filed by the players, set to be heard in Northern California, has been abandoned.
NBA players involved in lawsuit vs. NBA in California's Northern District file notice of voluntary dismissal of complaint without prejudice.
Later Monday,
Ken Berger of CBSSports.com reported
that the voluntary dismissal was a precursor to the players' decision to consolidate their two antitrust lawsuits into one. Players' attorney David Boies made that announcement official during a Monday evening press conference in New York.
"David Boies says players filing consolidated complaint, combining the cases in California and Minnesota," Berger reported. "The consolidated complaint including all plaintiffs from both cases was filed today in Minnesota."
Players originally named as plaintiffs in the California case included New York
Knicks
forward
Carmelo Anthony
, Knicks guard
Chauncey Billups
, Oklahoma City
Thunder
forward
Kevin Durant
, San Antonio
Spurs
rookie forward
Kawhi Leonard
and free agent forward
Leon Powe
. Players named as plaintiffs in the original Minnesota case included free agent forward
Caron Butler
, Detroit
Pistons
guard
Ben Gordon
, Minnesota
Timberwolves
forward
Anthony Tolliver
and Minnesota Timberwolves rookie forward
Derrick Williams
.
"This is now a consolidated class action on behalf of all the players," Boies said, according to Berger. "If we had not done this, the courts would have done it."
"This should permit us to expedite the case," Boies said of the consolidated complaint, noting that additional plantiffs will be added to the case. Those players include Phoenix
Suns
point guard
Steve Nash
, Cleveland
Cavaliers
point guard
Baron Davis
, Boston
Celtics
point guard
Rajon Rondo
, free agent point guard
Sebastian Telfair
and Minnesota Timberwolves forward
Anthony Randolph
.
NBA general counsel Rick Buchanan issued the following statement in response to the consolidation.
"We assume that Mr. Boies was not happy with either the reassignment of the case from Oakland to San Francisco or that the new judge scheduled the first conference for March of 2012," the statement read. "This is consistent with Mr. Boies' inappropriate shopping for a forum that he can only hope will be friendlier to his baseless legal claims."
Boies, in turn, called the NBA's statement "ridiculous," Berger reported, before adding that no settlement talks have taken place yet.
"It takes two people to negotiate," Boies said. The NBA has until December 5 to formally respond in court to the players' consolidated legal complaint.