Posted by Ben Golliver.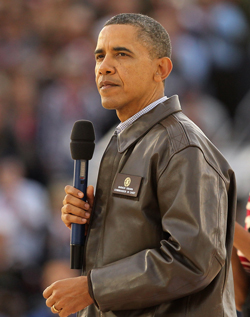 Do you support United States President Barack Obama, like professional basketball and have $5,000 sitting around? If so, I know just the event for you.
President Obama is hosting a Washington, D.C. exhibition game featuring some of the NBA's biggest stars on Dec. 12. The only catch? Tickets start in the triple digits, with proceeds from the game going to the Obama Victory Fund to support the President's 2012 re-election campaign and the Democratic National Committee.
The Obama Classic Basketball Game,
announced on BarackObama.com
, is expected to feature NBA and WNBA stars past and present.
Please join us in Washington, DC for a game featuring basketball's greatest super stars in support of the Obama Victory Fund.

Confirmed to play: Ray Allen - Carmelo Anthony - Chris Bosh - Vince Carter - Tyson Chandler - Jamal Crawford - Kevin Durant - Baron Davis - Patrick Ewing - Derek Fisher - Rudy Gay - Blake Griffin - Tyler Hansbrough - Dwight Howard - Juwan Howard - Antawn Jamison - Dahntay Jones - Brandon Knight - Kevin Love - Jamal Mashburn - Cheryl Miller - Reggie Miller - Alonzo Mourning - Dikembe Mutombo - Chris Paul - Quentin Richardson - Doc Rivers - Steve Smith - Jerry Stackhouse - Amare Stoudemire - Tina Thompson - John Wall - Russell Westbrook. More players to be added soon!
Tickets for the game start at $100 and escalate to $5,000 for courtside seats. The venue is currently listed as "to be announced."
Obama, a huge basketball fan, has said in recent months that the ongoing NBA lockout has left him "
heartbroken
" and "
concerned
." Asked recently if he planned to intervene in the NBA's ongoing labor dispute,
Obama said
that he "wouldn't intercede" because he has "some bigger fish to fry."
I guess putting the still-unemployed players to work fundraising for a president re-election campaign technically counts as frying a bigger fish. The message here: ask not what the President can do for your job, NBA players, ask only what you can do for the President's job.
But, seriously, if this is anything like
the Carrier Classic
-- a college basketball game played on an aircraft carrier that Obama and his wife attended on Veteran's Day -- then it will be all sorts of awesome.