Posted by Ben Golliver.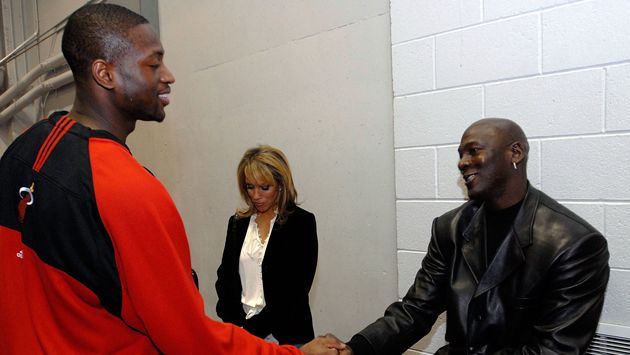 NBA legend and Charlotte
Bobcats
owner Michael Jordan has drawn the scorn of NBA players past and present over the last few months, thanks to his hard-line, anti-player stance in the league's ongoing labor negotiations.
In case you missed it, Los Angeles
Lakers
forward
Metta World Peace
said
that Jordan betrayed NBA players, former New York
Knicks
guard Stephon Marbury
called
Jordan a "fake sellout", Golden State
Warriors
wing
Klay Thompson
and Indiana
Pacers
wing
Paul George
agreed
that Jordan was a "straight hypocrite", and Washington
Wizards
guard
Nick Young
pledged
never to wear Jordan's sneakers again. Jordan has generally enjoyed that rare combination of being loved, feared and respected, so all the criticism has been unusual, to say the least.
One prominent NBA player still has Jordan's back, though. Miami
Heat
All-Star guard
Dwyane Wade
, one of Jordan Brand's major marketing faces, expressed his loyalty to his sneaker boss in
an interview with the Sun-Sentinel on Thursday
.
"I really didn't need to get involved in all that," Wade said. "Obviously I wear a different hat than certain other guys that got involved in it. And I stay away from it. I have an obligation and I have a job to do and I'm going to do my job."

"That's on Nick Young," Wade said. "That's his moment. Obviously, that's his own choice and decision and, you know, that's something he's going to have to deal with. I can't let that affect me. I have my own things to run, my own stuff to think about what I'm doing with my own shoes.

"Obviously, I heard about it, because you can't do nothing but hear about everything now, because there's nothing else to do."
When Wade refers to the fact that he wears a "different hat" than the players critical of Jordan, what he actually means is that he has his own very popular signature shoe with Jordan and that he is compensated handsomely for it. In 2007,
BusinessWeek.com reported
that Wade was pulling in roughly $10 million a year in shoe endorsements. By comparison, Young, who is signed with Nike
according to the Washington Post
, has made $7.4 million in NBA earnings during his 4-year NBA career.
Put simply: Jordan almost certainly pays Wade more money in one year than Young has made in his lifetime. We shouldn't be surprised in the slightest that the two men have different takes on MJ's role in these labor negotiations.
Wade, a Chicago native who grew up idolizing Jordan, modeling his game after No. 23, has earned nearly $70 million in NBA salary and tens of millions more off of endorsements. He could very well find himself on the owners' side of the table in future collective bargaining negotiations if he chooses to follow in Jordan's footsteps after he retires.
For better
and
worse, Wade, like Jordan, is so fully invested in the massive business system that surrounds the NBA that outside perception of their moral stands doesn't even come under consideration. The "job" and the "obligations" come first, second and third.