Posted by Ben Golliver.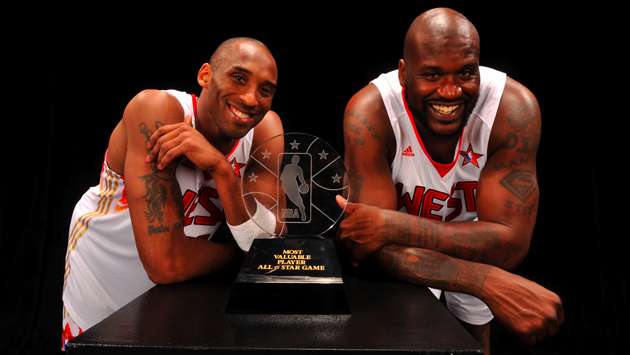 A few weeks back
, we noted an excerpt from Shaquille O'Neal's new book,
Shaq Uncut
, in which the NBA legend described threatening to kill his former Los Angeles
Lakers
teammates,
Kobe Bryant
.
"If you ever say anything like what you said to Jim Gray ever again, I will kill you," O'Neal wrote that he told Bryant, after Bryant disparaged O'Neal's work ethic in a media interview.
On Thursday, O'Neal
joined Stephen A. Smith on ESPN
to clarify that death threat.
"That [threat] happened back then," O'Neal said. "It's well-documented. It's like an Ebonics statement. I've wanted to kill you many times, Stephen A., but we're still cool."
O'Neal said that he now thinks of Bryant as "one of the greatest Lakers" of all time and that the two clashed because of personality differences.
"Leadership styles vary when you're dealing with tasks or relationships," O'Neal said. "I was more task-oriented. With me being the leader of the team, me being the CEO, everything had to go my way. Sometimes when you focus on the tasks, the relationship dwindles. It was all a respect thing. The task was completed. We won three out of four [titles]. We were the most dominant, most controversial duo ever created. That's all that matters."
While the book excerpt certainly makes it seem as if O'Neal took Bryant's criticism personally, he tried to play it off, saying that the media blew up the situation into more than it actually was.
"I'm a businessman, I don't take anything personal," O'Neal claimed. "A lot of the stuff was you [media] guys trying to get in. He'd say something to one guy and he'd write it. I'd say something to another guy, they'd write it. At times it was fun for me. You have to understand one thing about me, I always knew what I was doing. Everything I do has always been calculated."
Despite the death threat, the endless squabbling, the forced trade to the Miami
Heat
, and the lost potential for additional titles in Los Angeles, O'Neal said he left the tumultuous Lakers chapter of his life with no regrets.
"I played 19 years and if I had to do it all over, I would do the exact same thing. Even though [Kobe and I] had media friction, if you look at the clip you just showed, when I won my first championship, who jumped in my arms? At the second championship, who was on stage laughing at me and Mark Madsen? After the third championship, who hung out and partied together?"
With the past firmly in the past, O'Neal sounded confident that his legacy is secure and that the Bryant beef only adds to his legend.
"We haven't played together in 10 years and you're still talking about it," O'Neal concluded. "And 20 years from now you'll still be talking about it."