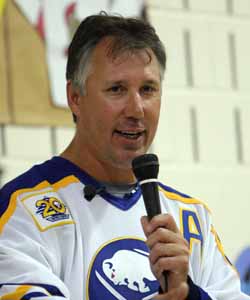 By Matt Moore
Always good to have the support and solidarity of your peers.
The Orlando Sentinel spoke with Dave Andreychuk, former NHL player and current Tampa Bay Lightning executive about the NHL lockout that busted an entire season with the owners getting the same kind of reset the NBA owners are now aiming for. Andreychuk says that standing up for your profession just isn't worth it. Because you'll lose anyway.
"If players think its better to sit out the season, let me tell you, its not. Its just not," Andreychuk says. "In the end, it will be worse."

"As the pressure built — after a month, two months, three months — it started to sink in," recalls Andreychuk, now a team executive with the Lightning. "Guys were saying to themselves, Im 25 years old and hockey is how I make my living. We need to get a deal done. "

"The deal got worse by us sitting out," Andreychuk admits. "At the end, we were so willing to sign, we had to agree to what the owners wanted. We gave back a tremendous amount just to get a deal done so we could go back to work."
via
NBA Lockout: Former NHL player Dave Andreychuk tells current NBA players: Sitting out the season will only make it worse - OrlandoSentinel.com
.
Pretty uncool statements from one former player to another. But his point that the players are going to lose anyway, that's the reason so many people were urging the players to at least return the offer with modifications instead of disclaiming interest or decertifying. The players have put themselves in a position where if they don't win a court decision, several of them consecutively, actually, or if the threat thereof does not spook the owners, they'll lose everything. They'll have their collective bargaining heads caved in when they recertify to approve the deal.
But still, you'd think that a player that has been down that road that has fought that battle would at least publicly support another professional athlete. Maybe Maybe he and Michael Jordan can go bowling and talk about what it's like to bail on your former colleagues.
It's not that Andreychuk's wrong. He's not wrong. He's right. He just shouldn't say it. Then again, apparently no one else is talking straight to the players about what their situation is.
(HT:
SI.com
)