Posted by Ben Golliver.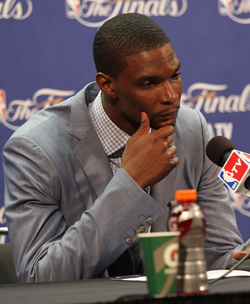 During the ongoing NBA lockout there is plenty of blame to go around, but very few people who are willing to accept it.
Miami
Heat
forward
Chris Bosh
is used to being criticized, so perhaps we shouldn't be surprised that he is one of a very few major figures in professional basketball to admit that his actions played a key role in the current labor impasse.
Bosh, who left the Toronto
Raptors
to join
Dwyane Wade
and
LeBron James
in Miami during the summer of 2010,
told the Sun-Sentinel
that he believes the hard-line stances taken by owners during the current collective bargaining agreement negotiations are motivated in part by the Big 3 teaming up.
He said it would not be a stretch to believe the Heat's signing of himself, LeBron James and Dwyane Wade in the 2010 offseason contributed to the league's belief that the work rules had to change.

"I think so," he said.

But he said efforts to block such an approach are misguided.

"I mean, if you look at the free agents coming up in the same situations, with Chris Paul, Dwight Howard, Deron Williams, they can control their own fate," he said. "They have the power to control that and I think that's a great thing. In any job you want freedom to negotiate.

"With us doing what we did, and Carmelo going to the Knicks, I think that has a lot to do with it. Hopefully we can keep that and guys can come and go and make the deal that's best for them and their family."
Is Bosh correct? Definitely.
If there's one mantra that has been preached by the NBA throughout the negotiations, it's competitive balance. What could be more of a competitive imbalance than three All-Stars agreeing to join together to form a superteam core and then actively recruiting role players to produce a perennial title contender in the NBA's most desireable market? Pretty much nothing.
Same thing goes for the New York Knicks. What could be worse for competitive balance than
Amar'e Stoudemire
heading to the Big Apple, followed in short order by
Carmelo Anthony
forcing his way there during a midseason trade, with buddy Chris Paul just biding his time, waiting for his opportunity to hop on?
What's more, such talent consolidation only exacerbates the inherent monetary benefits that go with being in large or desireable markets. If an entire generation of superstars wielded its power to determine where they played as successfully as James, Bosh and Anthony, there is little doubt the gap between the NBA's haves and the have-nots would increase.
Examining the NBA's most recent proposal, it's clear that the owners have taken a number of steps to help incumbent teams keep their stars and to create an environment in which those teams, stars in hand, will be able to build around them. Severe luxury tax penalties, a severe restriction on the mid-level exception for tax payers, shorter contract lengths and continued Bird Rights all combine to limit a player's options in free agency and tip the balance towards the home team. Players could still leave once they hit unrestricted free agency, of course, but they would take a bigger hit, relatively, than they did in the old agreement.
The upside, the league would argue, is that their incumbent teams would be better able to compete for talent to build around the stars because they wouldn't be tied up by as many burdensome, useless contracts and there wouldn't be high-end competition from luxury tax payers for free agents. Most everyone concedes that there aren't enough stars to go around to ensure total parity in the NBA, but the league's proposal would appear to take meaningful steps in that direction.
Is that a good thing or a bad thing? Obviously that depends on your point of view. For Bosh, or fans of his star-laden team, the NBA's proposal would represent a major step back. Disgruntled fans of the Raptors and
Cavaliers
, though, might have a different opinion. One thing is for sure: If everyone involved in the labor negotiations was as honest and willing to implicate themselves as Bosh was here, the negotiations would be in a far better place.